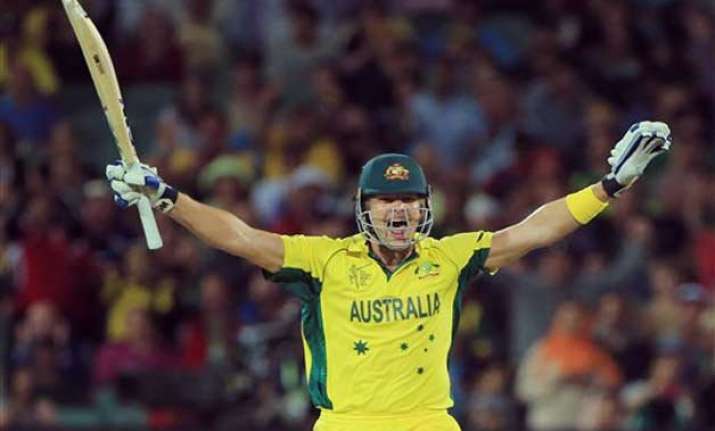 Sydney: Former Australian pacer Brett Lee believes all-rounder Shane Watson has finally answered his critics after playing a match-winning knock in Friday's six-wicket World Cup quarter final win over Pakistan.
Watson remained not out on 64 as he ensured his team got over the line after being put under pressure while chasing 214.
Lee also credited Watson for the innings as he successfully countered a hostile spell from Pakistani fast-bowler Wahab Riaz.
"I think he's made plenty of people eat their words," Lee was quoted as saying by the Sydney Morning Herald Saturday.
"His batting (on Friday) night was one of the best innings I've seen under pressure. You need to realise Riaz was bowling serious pace and it was one of the best spells of fast bowling - especially from Pakistan - I've seen in a long time.
That pull shot he played off Riaz (the six) was the shot of the match. Yes, he was dropped (on four) but he (recovered to) provide a steady hand, all because he's someone who has been in that situation many times before," said Lee.
The 38-year-old said the experience of Watson could help Australia reclaim the quadrennial trophy.
"In Shane Watson we have a bloke who has played (185) one-day internationals and his experience will help Australia go a long way to fulfilling it's aim to win the World Cup. His innings against Pakistan was a mixture of guts and maturity.
He steadied the ship because Australia was under pressure (at 3-59) when he came in."
The winner of the 2003 and 2007 World Cup, Lee added Watson not only offers a lot with the willow and the ball, but he also works tirelessly off-the-field with the younger lot in the outfit.
"He doesn't just offer a lot with bat, ball and in the field, but behind the closed doors of the change rooms he works with the young guys as they come through."
"Speak to the players about when they were young guys - Mitchell Starc, Mitchell Johnson and now Josh Hazlewood - and they'll speak highly of Shane's presence because he's willing to pass on the lessons from his own experiences," he said.