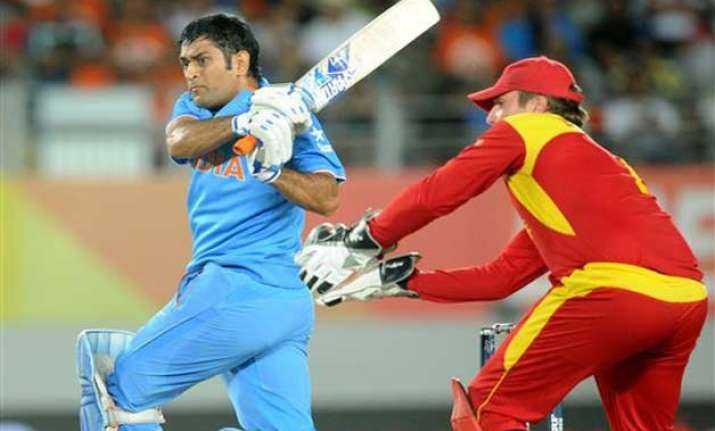 Auckland: Scoreboard of India vs Zimbabwe Group B, 39th Match of the ICC World Cup 2015 played at Eden Park here Saturday.
Riding on Raina's brilliant unbeaten 110 and an equally important 85 by skipper Mahendra Singh Dhoni, India overhauled commendable target of 288 in 48.4 overs, recording their highest run chase in a World Cup match.
India were in a spot of bother at 92 for four when skipper Dhoni joined Raina as the duo sealed the match with a defining unbeaten 196-run record stand for the fifth wicket off 156 balls.
Raina, who scored his fifth ODI ton had nine fours and four sixes, in his innings. There were the customary muscular heaves over deep mid-wicket region for sixes as were the delicate late cuts.
While the first 50 came off 67 balls, the next one took only 27 deliveries as the UP left-hander suddenly put his foot on the accelerator. The only blemish in his innings was a mistimed sweep off Sikandar Raza that was dropped by Hamilton Masakadza at short fine leg when he was on 47.
Dhoni again played an anchor's to perfection pacing his innings with precision hitting eight boundaries and two sixes in 76 balls en route his 57th ODI half-century.
Result: India won by 6 wickets
Man of the Match: Suresh Raina
Toss: India won the toss and elected to bowl
Zimbabwe innings: 287 all out in 48.5 overs
| | | |
| --- | --- | --- |
|  Chamu Chibhabha |  c Dhawan b Shami |  7                           |
|  Hamilton Masakadza |  c Dhoni b Yadav |  2 |
|  Solomon Mire |  c Dhoni b Mohit |  9 |
|  Brendan Taylor |  c Dhawan b Mohit |  138 |
|  Sean Williams |  c & b Ashwin |  50 |
|  Craig Ervine |  c & b Mohit |  27 |
|  Sikandar Raza |  b Shami |  28 |
|  Regis Chakabva |  c Rohit b Yadav |  10 |
|  Tinashe Panyangara |  c Yadav b Shami |  6 |
|  Tawanda Mupariwa |  not out |  1* |
|  Tendai Chatara |  b Yadav |  0 |
|  Extras |  (lb 2, wd 7) |  9 |
|  Total |  all out |  287                      |
|  Overs |  innings break |  48.5                     |
|  Fall of wickets                                         |  1-11 (Masakadza, 3.3 ov), 2-13 (Chibhabha, 4.3 ov), 3-33 (Mire, 10.6 ov), 4-126 (Williams, 28.3 ov), 5-235 (Taylor, 41.5 ov), 6-241 (Ervine, 43.1 ov), 7-276 (Raza, 45.6 ov), 8-285 (Panyangara, 47.3 ov), 9-286 (Chakabva, 48.1 ov), 10-287 (Chatara, 48.5 ov) |                     |
Bowling
| | | | | |
| --- | --- | --- | --- | --- |
|  Bowler |  Overs |  Maidens |  Runs |  Wickets |
|  Mohammed Shami |  9 |  2 |  48 |  3 |
|  Umesh Yadav |  9.5 |  1 |  43 |  3 |
|  Mohit Sharma |  10 |  1 |  48 |  3 |
|  Ravichandran Ashwin |  10 |  0 |  75 |  1 |
|  Ravindra Jadeja |  10           |  0 |  71           |  0 |
India innings: 288/4 in 48.4 overs
| | | |
| --- | --- | --- |
|  Rohit Sharma |  c Raza b Panyangara |  16 |
|  Shikhar Dhawan |  b Panyangara |  4 |
|  Virat Kohli |  b Raza |  38 |
|  Ajinkya Rahane |  run out (Raza/Taylor) |  19 |
|  Suresh Raina |  not out |  110* |
|  MS Dhoni |  not out |  85* |
|  Extras |  (b 1, lb 2, wd 12, nb 1) |  16 |
|  Total |  for 4 wickets |  288                    |
|  Overs |  match over |  48.4                  |
|  Fall of wickets                                         |  1-21 (Rohit, 6.1 ov), 2-21 (Dhawan, 6.5 ov), 3-71 (Rahane, 16.3 ov), 4-92 (Kohli, 22.4 ov) |                     |
Did not bat: Ravindra Jadeja, Ravichandran Ashwin, Mohit Sharma, Mohammed Shami, Umesh Yadav
Bowling
| | | | | |
| --- | --- | --- | --- | --- |
|  Bowler |  Overs |  Maidens |  Runs |  Wickets |
|  Tinashe Panyangara |  8.4 |  1 |  53 |  2 |
|  Tendai Chatara |  10 |  1 |  59 |  0 |
|  Tawanda Mupariwa |  10 |  0 |  61 |  0 |
|  Solomon Mire |  5 |  0 |  29 |  0 |
|  Sean Williams |  5 |  0 |  31 |  0 |
|  Sikandar Raza |  8 |  0 |  37 |  1 |
|  Hamilton Masakadza |  2 |  0 |  15 |  0 |