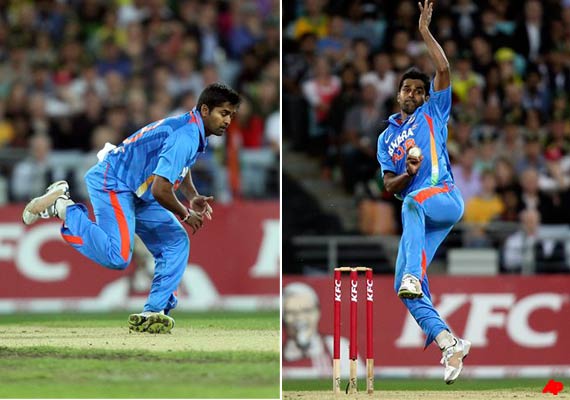 Brisbane, Feb 18: He has emerged as an unlikely top wicket-taker for India in the ongoing ODI tri-series and pacer Vinay Kumar today said he is looking to improve on consistency in the forthcoming matches.

"I could have given 10 runs less in every game, there are a few areas I can improve," said the self-effacing Vinay who has nine wickets from four games so far.

Vinay elaborated upon the areas he is not happy about despite his success in the present series.

"When a new batsman comes in, I allow them to get three runs or a four. I know I can bowl a dot ball, I know I can control. So I feel I could have been consistent and given at least 10 runs less in every game," he explained.

Vinay, who made his Test debut in Perth last month, said the difference in domestic and international cricket is enormous.

"The margin of error is very less. If you bowl one or two bad deliveries, you can survive in domestic cricket. In international cricket, even good balls go for fours—the bad ones definitely go. You need to be more consistent."

Sri Lanka have begun their move in the tri-series but Vinay wasn't looking over his shoulder at the resurgence of the subcontinental neighbours.

"For me it's one game at a time. I am not thinking about the series."

Vinay doesn't have much written about him in the media and the youngster, whom departing coach Eric Simmons describes as the most hard-working one, isn't fazed by it at all.

"All I try to do is to keep it simple and give off my best, be it in bowling, fielding or batting. Other things don't bother me."

Vinay said opener Virender Sehwag is responding well to the treatment on his back spasm and a decision on his inclusion would be taken before the match tomorrow afternoon.