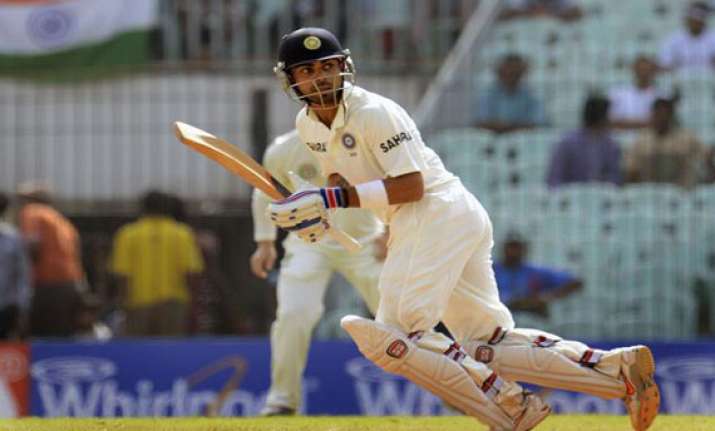 New Delhi, Feb 24: Virat Kohli's childhood coach Rajkumar Sharma is a happy man as the effort that his favourite student Virat Kohli put in at the nets prior to the Australia series has worked wonders for the player.
"I had a specific strategy in mind for Virat so that he could counter the Australian quick bowlers. Since, it is very difficult to find quicks, who can consistently hit 140 kmph at the nets, I decided to shorten the length of the pitch from 22 yards to 20 yards," Sharma told PTI on Sunday.
"The idea was to prepare for Mitchell Starc and James Pattinson, who would bowl in the 140 plus range.
Shortening the pitch by two yards would mean that reaction time for the batsman would be less.
Also the bowler, whose normal speed is in 130 kmph would be able to add on a few yards of pace," Sharma explained the plan elaborately.
Kohli hit his fourth Test century on the day and his second against Australia and Sharma is undoubtedly satisfied.
"Virat didn't take a single off day during the weeks prior to the series. He would every day bat for around two to two and half hours at the nets.
He started leaving a lot of deliveries, something he wasn't doing due to excessive one day cricket.
"What made me happy was the amount of time he took to score a century. He batted close to 200 balls which means he was patient and prepared to wait for the loose balls," Sharma stated.
The coach also feels that it is Virat's grit and determination that has helped him to get back into form after a temporary slump.
"Virat is a very determined boy and he told me "Don't worry sir, I will be getting runs against Aussies." He has kept his promise and I am proud to have a student like him," Sharma concluded.