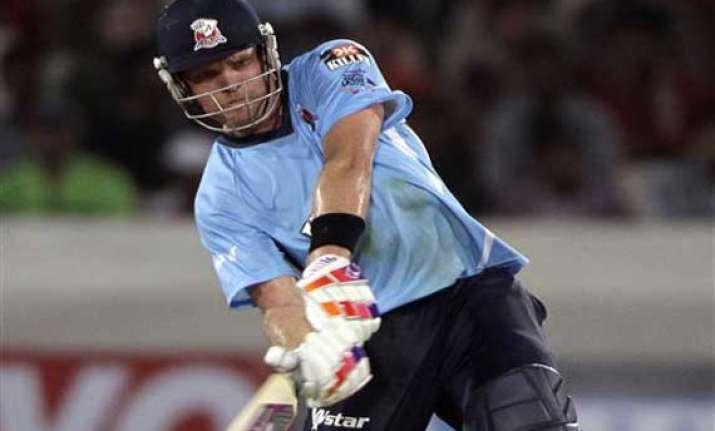 Wellington, New Zealand: Lou Vincent says the fact he has been charged with 14 offences under the England Cricket Board's anti-corruption code should dispel any notion he has agreed to a plea bargain with match-fixing investigators.
In a statement issued through his lawyers on Friday, the ex-New Zealand batsman confirmed the charges and said he "remains accountable for his actions."   
The ECB on Thursday said it charged Vincent and Pakistan fast bowler Naved Arif with match-fixing in relation to two county matches. Vincent's charges related to games played in August 2011, a Twenty20 between Sussex and Lancashire, and a 40-over game between Sussex and Kent.   
Arif, who played for Pakistan A, was charged with six offences in relation to the 40-over game.   
Both players have been provisionally suspended from all competition.   
Vincent's lawyers said in a statement, "The fact of the charges, and more are likely, dispel any notions of a plea bargain having been done as unfortunately appears to be wrongly suggested by others."   
Vincent could also be charged with offences in South Africa, where authorities are investigating matches during a Twenty20 tournament in 2012.   
Pakistan Cricket Board chairman Najam Sethi said it was not involved in Arif's case.   
"There were some hints about this guy Naved, but according to my information for the last four years he is not here and has been playing abroad," Sethi said.   
Testimony provided by Vincent to the International Cricket Council's Anti-Corruption and Security Unit was last week leaked to a British newspaper, exposing allegations of match-fixing in the England County Championship and in tournaments or competitions in at least four other countries.   
Later, evidence given by current New Zealand captain Brendon McCullum to ACSU investigators was also leaked to British media. McCullum was reported to have told the ACSU in sworn statements that in 2008 he was twice approached by a former star player -- dubbed `Player X' -- and offered up to $180,000 per match to influence the outcome of games.   
Former New Zealand allrounder Chris Cairns then released a statement saying that if "Player X" was a reference to him, then the allegations were "a complete lie."   
Chris Watts, the head of the ECB anti-corruption unit, said the charges laid against Vincent resulted from complex and lengthy investigations coordinated across many jurisdictions. The ICC anti-corruption unit was involved.   
"This matter is now the subject of formal legal proceedings and we will therefore make no further comment other than to reiterate our determination to bring to account the very small minority who seek to corrupt cricket," Watts said.   
The ICC anti-corruption unit head, Ronnie Flanagan, on Friday told Radio New Zealand the leaking of confidential testimony was "utterly improper."   
"It's a matter of great concern to us that players and officials and witnesses who come forward in good faith to give us matters in terms of confidentiality, when that confidentiality is breached and appears in newspapers," Flanagan said.   
The ICC has launched an investigation into the source of the media leaks, but has confirmed it was not from within its anti-corruption unit.   
Flanagan said he did not believe the leaks of testimony to the media influenced the timing of the ECB's announcement of the charges against Vincent.