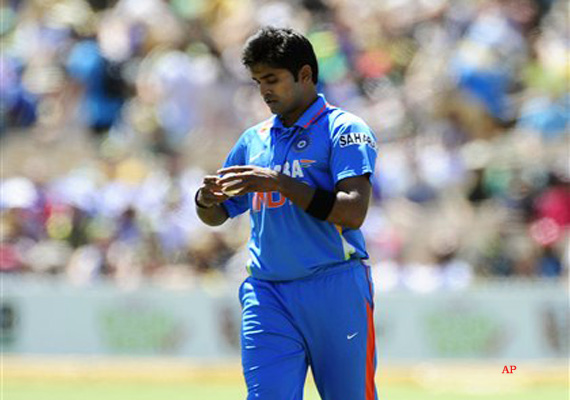 Brisbane, Feb 17 : India medium pacer R Vinay Kumar is not on anyone's mind and he would just like it the way it is as long as his skipper Mahendra Singh Dhoni keeps turning to him and batsmen keep nibbling at his swinging deliveries.

The Karnataka medium-pacer has beggared belief with nine wickets at a staggering average 20.11 -- a wicket every 25th ball—in the ongoing Commonwealth Bank one-day series. With the likes of Lasith Malinga and Ryan Harris in the fray, his is the case of the meek who has inherited the earth.

Oh, he must have bagged tail-enders. Or, his economy rate must be atrocious. Surely, the scalps are to catches in the deep when the batsmen are going for maximum. All wrong, for he has mostly got Pontings and Jayawardenes and Warners; his economy rate is 4.89 and the catches are unerringly the pouches in the slip cordon.

This is his best moment yet but selectors have very little to do with it. He was not an original selection to Australia till last-minute injury to Varun Aaron put him on plane to Down Under.
He was also way down the pecking order when WACA Test beckoned last month. Yet, Dhoni decided to go with four quicks and Vinay earned his Test cap.

The euphoria lasted only four hours. Brought in to bowl the sixth over of the innings, the 28-year-old saw a Warner hit sail over his head into the stands in his very first over.

The pocket-dynamo opener was to smash one more six and take 43 runs off his 36 balls on way to a blistering 180 runs.  His dream had turned into a nightmare all too swiftly.

Fortunately, Dhoni believed in him. The Indian captain surely can't have enough of Vinay in shorter formats of the game.
He was put through his pace in two Twenty20 encounters
and then preferred, at times, to proven quality of Praveen Kumar in the one-day triangular series.