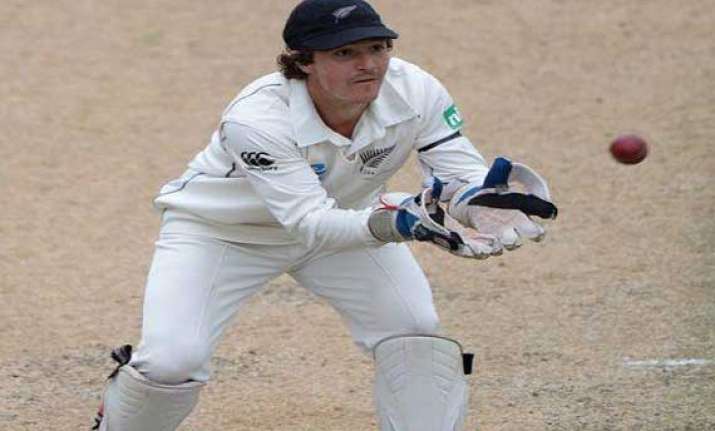 Wellington: New Zealand batsman B J Watling, whose world record sixth-wicket partnership with skipper Brendon McCullum today gave the home team a crucial advantage in the second Test against India, said he feels proud of the effort as the visiting bowlers put him through a "storm".
Watling and McCullum put together a 352-run sixth-wicket stand that gave New Zealand a commanding 325-run lead over India. Watling scored his third Test century, 124 runs, while his partner was unbeaten on 281 going into the last day of the series.     
"I am definitely very proud of the way we went about things today. I think Brendon batted extremely well again today and to be in the position we are now after two days ago, we are pretty pleased with how things went," said Watling, after the day's play.     
"It was just a grind. We just took each ball at a time, each over at a time, each hour at a time. They came at us hard and we sort of weathered the storm and then got a few runs away and just kept trying to take them as deep as we could. To lose one wicket throughout this fourth day is a pretty pleasing effort," he added.     
Indeed, he was the only batsman dismissed on day four, but did enough damage to Indian hopes of equalling the series after their 40-run loss in Auckland. Watling came in at 94/5 and put on that record stand to defy the Indian hopes.     
"At five for 90-odd, you are feeling the pressure a bit. They are bowling well and taking wickets, so it's again just trying to get through there and try and create a partnership and try and take it deep. Yesterday, it was pretty much about batting through the day, and try to fight our way back into the game. Today was pretty much the same," he said.     
"The first hour was crucial. If we managed to not lose a wicket there, we felt we could kick on and try and keep going. Each session that started was just about starting again and keeping the partnership going and get as many runs and take as much time out of the game as possible.