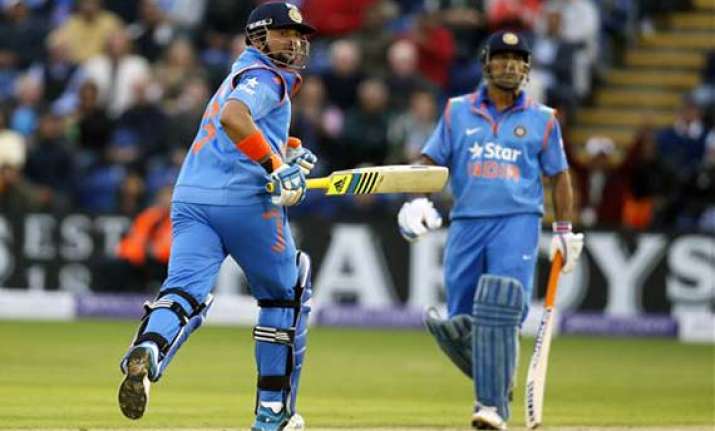 Cardiff: The move to send Suresh Raina to bat at number five paid rich dividends as his match-winning century helped India post a 133-run win over England, and it seems the Indian team management is in no mood to tamper with the middle order batsman's position in the batting line-up.
Yes, Raina will bat at number five. That's how we will move ahead," said Dhoni when asked pertinently about Raina batting slot.
"Unless there are 3-4 overs remaining, then I will promote myself up. Other than that, 98 out of 100 games if the situation is good like it was in Cardiff, he will bat at number five.
Ajinkya Rahane
will bat at number four.
"It depends on one-off games though, or if it is a very crucial game for us and if someone is slightly out of form, then at times we will look to promote the in-form batsman, so he can get more runs and play more deliveries for the team. But as a settled slot, definitely Raina will bat at five. I think he is really good there," the captain added.
India started their build-up to the 2015 World Cup well with a comprehensive win in the second ODI against England and the team is keen to bank on it. But when skipper Mahendra Singh Dhoni was asked whether Raina was assured of a place in the squad for the 2015 World Cup, he preferred to steer out of any controversy.
After the controversy regarding his comments about coach Duncan Fletcher leading the team in Australia-New Zealand, it would have been too much for Dhoni to confirm the same about another player.
After five-ODI series against England, India will play West Indies at home and then take part in a tri-series with England and Australia when they tour Down Under in December-January 2014-15.
During this period, the selectors will be fine-tuning their World Cup squad, giving chances to quite a few names in a bid to firm-up their eventual 15-member selection. It can be said though that they already know the nucleus of the side.
It can also be asserted that Raina has always been part of their plans. He was dropped for the Asia Cup in Bangladesh after the 4-0 loss in the ODIs in New Zealand. By his standards Raina didn't have a sparkling
IPL
season this time around, yet he led the national side to Bangladesh in the absence of Dhoni and
Virat Kohli
. Needless to say, he was an automatic choice for the ODI leg of this England tour.
The underlying point is that there is no way the Indian team will look to defend its 2011 crown in six months' time without Raina. In 2011, he had played two scintillating knocks -- one in the quarter-final against Australia at Ahmedabad and the other in the semi-final against Pakistan at Mohali.
The big difference from then, however is the possibility of Yuvraj missing out on the trip to Australia-New Zealand. Keeping that in mind, Dhoni had first attempted to promote Raina to number four in the home series against Australia and West Indies last year, but that move backfired.
Since then Ajinkya Rahane has taken over that position, after Yuvraj failed in South Africa too. But Raina's move back down the order severely dented his confidence. In five innings on those two tours, he batted at either number five or six. In two innings in South Africa, he scored 50 runs with a highest score of 36. In New Zealand, he scored 84 runs in three innings, again with one high score of 35. Then he was dropped from the XI ? and eventually the Indian team ? for the first time since that 2011 World Cup victory.
The 2013-14 season was a period of great flux for the Indian batting line-up in ODIs. Things were still being sorted out and there wasn't too much certainty about which player would perform what role. Six months later, and with only six more to go until the quadrennial event, ODI teams across the world have started their preparations in earnest.
India, too, have started with fixing their batting line-up.