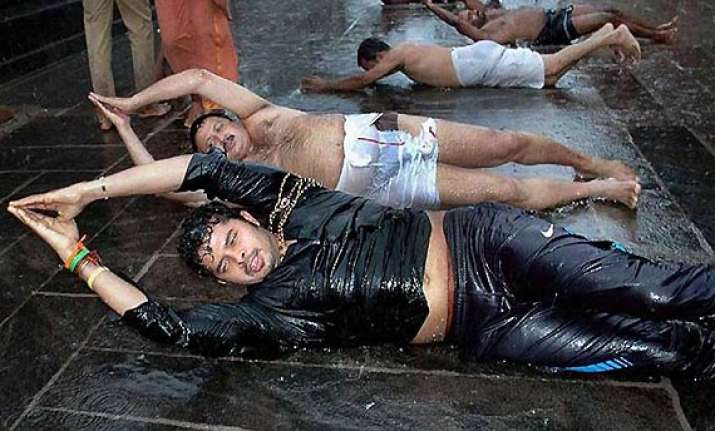 Sabarimala, Kerala, Jun 18: Indian cricketer S Sreesanth was seen prostrating and rolling before God in the famous Sabarimala temple in Kerala on Thursday.

Sreesanth performed Sayana Pradakshinam (the devotional rolling around the shrine) at the  temple.

Later Sreesanth said he  expected himself to  be fit for India's tour of England beginning July 21 with the first Test at Lord's.

Taking a one-day break from Bangalore training session, where he is trying to regain fitness after pulling out of the forthcoming Test series against West Indies due to an elbow injury, Sreesanth made a hurried trip to Sabarimala.

Dressed in customary black shirt and black dhothi, he said he is getting back into shape."I am sure I will be fit in time for the coming England tour," said Sreesanth.

Sreesanth has the experience of English conditions as he played for Warwickshire county in 2009.

Of late Sreesanth has been injury prone but luck come his way when he was picked up in place of the injured Praveen Kumar in the World Cup squad.

After playing in the opening match of the mega event, he sat out in the remaining league matches and was drafted into the team only for the final.