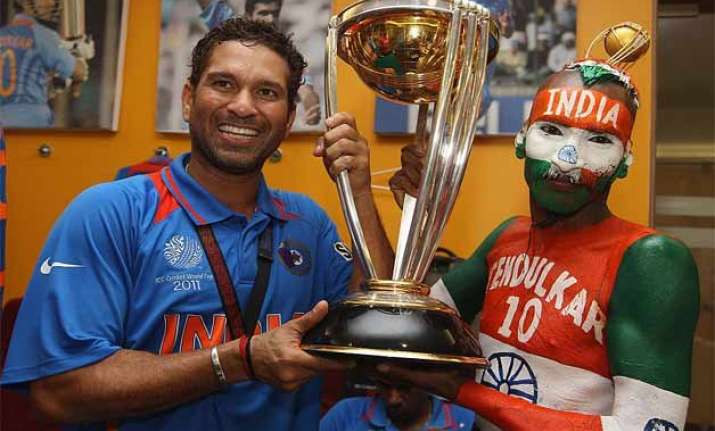 New Delhi: Sudhir Gautam also known as Sudhir Chaudhary and one of the greatest Indian Cricket fan landed in trouble in New Zealand when the Auckland airport authorities confiscated his paint bottles on Sunday morning.
Sudhir who paints his body in tri-color, followed Team India outside Asia for the first time ever. New Zealand have one of the toughest immigration rules in the world. He was not aware about stringent rules which forbid 'entry' of fruits, eatables, liquid, dirt of mud that may contain organic substances. 'Colourful' Sudhir was carrying just one too many 'banned' substances.
Customs officials confiscated the bottles of colour that Sudhir was carrying. According to a report in the India Today website, Sudhir was asked to pay a hefty fine of NZ $1400 (approximately Rs 65000) for violating law.
"I was shell-shocked. I pleaded with them that I did not have that much money," said Sudhir. "I told them that I am a fan of Team India who paints himself in the national colours and goes everywhere. The officials said they understood all that but rules were rules and they were meant to be followed. They told me that I had broken the law and I had to pay up?
And Sudhir - whose hair-cut is much like the map of India, body painted in orange, white and green -- was almost forced to pay the fine until he used his trump card - a letter given to him by Sachin Tendulkar.
"It was then that I showed them the letter that 'Sachin Sir' wrote to me. I show that letter to the embassies whenever I apply for a visa. It worked like magic. They looked at me again and said, 'okay, go ahead'. It was such a relief," said Sudhir.
The letter which was originally written by Sachin to the Australian embassy in Delhi, helped Sudhir to get the visa in a mere one day.
Earlier, during the India vs West Indies match at Perth, the W.A.C.A authorities were not too happy about the length of the flagpole that he carried. He was even carrying an extension that would fit into the two metre pole to make it longer.
Media reports says, security manager Wayne Reynolds pulled up Gautam before the start the match.
"The prescribed limit for a pole is one metre to 1.2 metres but this one is over two metres. This could not only obstruct the view of other spectators in the stands, it could also be unsafe for the others who wave around their flags," Reynolds said.
Gautam, however, kept pleading that he be allowed with his pole. "I come for all the matches with this. I was here for the India vs UAE game too and no one stopped me so why now?
"I will not create any problem. All the players and even the team manager know me, you can ask them. Please let me go," pleaded Gautam.
The heated discussion between the duo continued for a while before Gautam assured the security staff that he wouldn't use the pole and hurried away.
Talking about the incident in New Zealand, it is not something new with Indian cricket. Harbhajan Singh and Virender Sehwag in 2002 faced the embarrassment of being fined by New Zealand's Ministry of Agriculture for arriving in the country with dirty shoes. The two players were hit by 200 NZ (100 US) dollar instant fines for their undeclared dirty footwear as the Indian team flew in to Auckland.