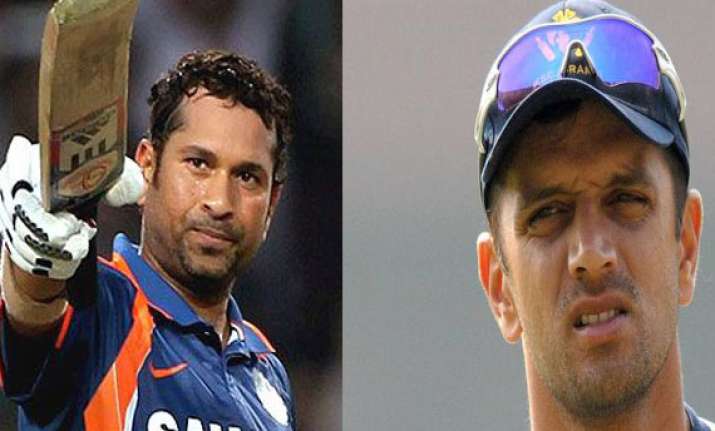 New Delhi:  Indian cricket legend Sachin Tendulkar and Rahul Dravid do share the same passion for the game that has made them icon or to some extent semi god but ask them if T20 is affecting the test and  they differ.
According to Sachin  T20 format has not only made the sport more exciting but also helped getting more result oriented Test matches.
While speaking at KSCA's Platinum Jubilee Celebrations in Bangaluru, master blaster said, "Cricket is the only sport to have three formats and its only getting more exciting not only for players but also for spectators. There is creativity and more results are coming in longer version of the game. The batsmen are willing to take chances."
However Sachin does not give much importance to basic skills and techniques when it comes to T20. He says  basics are more important in Test cricket and to a certain extent in one-day cricket but in T20 the players have to just go out and swing their bats.
On the other hand former captain Rahul Dravid feels that the tests are on the verge of extinction because of the over dose of T20. Dravid says T20 format has led to a growth in audience numbers and brought in revenue into the game. However the mushrooming of T20 leagues around the world is dangerous for the health of Tests.
While criticizing ICC for increasing number of T20s, Rahul says in order to ensure test cricket's longevity, retain its popularity and make it economically self-sustainable, cricket and its benefactors need to protect all three formats of the game without preferring one over the other.
Regarded as the wall, Rahul thinks test cricket is like the trunk of a tree and the shorter games, be it T20 or ODIs,  are its branches, offshoots.
His argument is that the branches that carry the fruit, earn the benefits of the larger garden in which they stand and so catch the eye but the trunk, though, is the old, massive, larger thing which took a very long time to reach height and is actually a life source, chip away at the trunk or cut it down and the branches will fall off, the fruit will dry up.
Dravid feels  that the introduction of day-night matches and use of pink balls are some of the measures that can restore tests mass appeal.