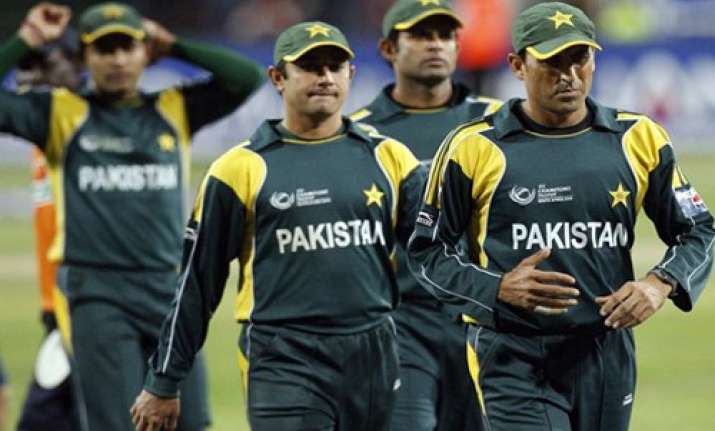 Hambantota (Sri Lanka), Feb 22 :  Keen to re-establish their reputation dented by the spot-fixing scandal, unpredictable Pakistan will look to launch their cricket World Cup campaign on a rousing note when they take on minnows here tomorrow. Having suffered an embarrassing defeat at the hands of Ireland, which eventually resulted in their first round ouster the 2007 edition, Pakistan would be wary of taking their opponents lightly this time around. In fact, captain Shahid Afridi has already warned his team to take every opponent seriously. "There have been so many upsets in the World Cup in the past, like the one against Ireland four years ago. So we have that in mind and we will be on our toes in every match, be it Kenya or Sri Lanka," said Afridi.
Going into the match, Pakistan would take heart from their recent 3-2 one-day series victory over New Zealand in New Zealand just before the World Cup. And even though they had mixed fortunes in the their two warm-up games -- a win against Bangladesh and a defeat against England, Pakistan are well aware that if they play as a unit, they have enough firepower to go a long distance in the tournament. Pakistan's batting consisting of the likes of Mohammad Hafeez, former captain Younis Khan, Misbah-ul-Haq, Akmal brothers -- Kamran and Umar, has the reputation of creating quite a flutter in the opposition camp. In the absence of their banned opener Salman Butt, Pakistan would be banking on Hafeez and Ahmed Shehzad in the opening slot, followed by the more experienced middle-order. Veteran Younis Khan is expected to bring in stability with all his experience of playing international cricket, followed by Test skipper and in-form Misbah and the two Akmals.
And with captain Shahid Afridi and allrounder Abdul Razzaq coming down the order, Pakistan should not have any trouble blowing the Kenyans away in their inaugural match. As far as bowling department is concerned, Shoaib Akhtar and Umar Gul would be looking to go for the kill from the very first ball. This match will also give both the pacemen an opportunity to get back to their peak form. Even Saeed Ajmal would get a chance to experiment with his doosra before his team face bigger names during the course of the tournament. Allrounder Afridi's fast-wrist spin is also expected to come in handy against the African nation. Kenya, the semifinalists of the 2003 World Cup edition but who suffered an embarassing 10-wicket defeat against New Zealand in their opening match, would be keen to re-group against the Asian cricketing giant and pose some challenge.
The Kenyans were bundled out for their lowest-ever World Cup total of 69 against the Kiwis and the entire match was over in no time. Surely, the Kenyans will need to put up an improved show to be able to compete against the Pakistanis. They would be relying on their promising opener in Seren Waters, who scored a century in their last warm-up match against the Netherlands, to give them a good start. With Collins Oduya, coming in at number three, followed by veteran Steve Tikolo, Kenya will be looking to put on some decent runs on the board. And although there are hardly any other batsmen who can threaten the Pakistani bowlers, Rakep Patel can be considered a handy batsman once he sets his eyes in. Even as the bowling unit of Kenya has not performed too badly over the last few practice games they had played but the
failure of their batsmen, gave them little opportunity to make a mark.
While Nehemene Odhiambo has performed consistently, he has been well supported by Peter Ongondo and bowling all-rounder Thomas Odoyo. Left arm-spinner Shem Ongoche and Tikolo have also been among wickets off-late. The bowlers might just spring up some surprise against the 'mentally-down' Pakistani side. The number of controversies and scandals in the recent past, is the only thing going against Pakistan as they start their 2011 World Cup campaign as an overwhelming favourites against the Kenyans.
However, Pakistan coach Waqar Younis had rubbished claims that the ban of the three players -- Butt, Mohammad Aamir and Mohamamd Asif -- for spot-fixing, will haunt the embattled team at the World Cup. "I don't think it will haunt Pakistan at all. We all know that we have been through tough times in the recent past but that does not mean that we don't have talent. Despite the problems we are a good enough team to beat anybody," said Waqar. PTI