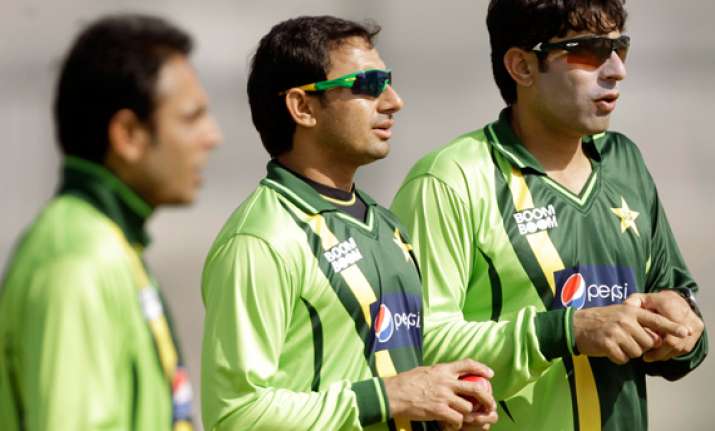 Dubai, United Arab Emirates, Feb 2: Pakistan will again rely on spinners Saeed Ajmal and Abdur Rehman to run through an underperforming batting lineup in the team's search of a first test series whitewash against England.

Jonathan Trott (141) and Alastair Cook (109) are the only English batsmen to have crossed the 100-run mark in England's two heavy defeats in the first two tests.

Ajmal's offbreaks and the left-arm spin of Rehman exposed England's inability to bat on subcontinent-like turning wickets in this Gulf country by taking 29 wickets between them.

And Pakistan captain Misbah-ul-Haq would like to see his spinners bowl with the same intensity in the third test, which starts Friday.

"No doubt they are world class bowlers and if they get conditions like this, it becomes difficult for batsmen," Misbah said on Thursday.

The Pakistan captain believes England batsmen's struggles with spin — especially against Ajmal's "doosra" delivery which is disguised as an offbreak but spins away from right-handed batsmen — has affected their levels of belief.

"England batsmen are under pressure because of not scoring runs, their confidence level is a bit low," Misbah said. "(Pakistan's spinners) create pressure on the batsmen and don't bowl loose balls. They never give any opportunity to let them out of that pressure."

England had an ideal opportunity to level the series at Abu Dhabi but the team was out for 72 while chasing a target of 145 runs.

Pakistan has never recorded a clean sweep against England, but Misbah's men are firm favorites to make a history at Dubai after two superlative performances.

"It will be a big achievement for the team," Misbah said. "No doubt England is a good team — No. 1 team — and it will not be easy because they will be more prepared, but we will try."

England needs a win to receive the $175,000 jackpot awarded by the ICC to the team that finishes top of the test rankings by April 1.

But captain Andrew Strauss is more concerned with his team's capabilities to counter spin and rectify its mistakes.

"We're not talking about massive changes of technique or anything like that," Strauss said. "It's always important against spin, because in some ways it's important you are proactive rather than reacting to the ball that comes down.

"We expanded our practice a bit more. It's not about kind of deconstructing your technique ... it's about just clarifying what you want to do out there in the middle."

England has undergone long training sessions in the past five days facing spin at Dubai International Cricket Stadium, the site of the team's 10-wicket loss inside three days in the first test last month.

The renowned English middle-order batting lineup comprising Ian Bell, Kevin Pietersen and Eoin Morgan have scored just 94 runs combined in two tests, and their early dismissals was one of the reasons for England's defeats.

"To a certain extent, cricket is a bit of a form game and probably few of our guys have got out of form in conjunction with each other, which doesn't help," Strauss said. "When you look back, probably two, three guys haven't really been in long enough to allow the game-plan to work.

"You can't disappear into a hole too much, there's a lot of things these guys have done very well ... these conditions are slightly different and so it's more about adapting your game to the conditions."

Strauss himself is struggling against the spinners with a top score of 32, made in the last innings at Abu Dhabi. But the England captain said his teammates are eager to show that they have learnt from the two defeats.

"We desperately want to avoid losing the series 3-0, we desperately want to come back," Strauss said. "There have been some doom and gloom moments ... we're not going to get too caught up in a kind of down with spiral, but we obviously have to learn lessons from what went wrong."