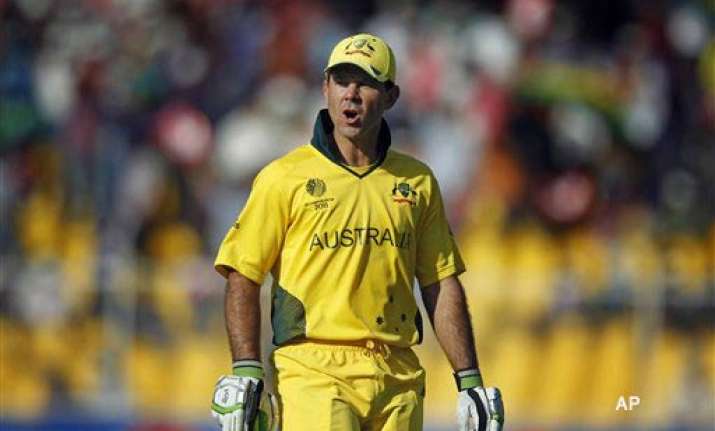 Ahmedabad, Feb 21: Australia skipper Ricky Ponting today described his team's 91-run win over Zimbabwe in their World Cup opener as a 'solid' performance."It was not a spectacular performance, but a solid one.We know we need to play better as we go along," Ponting, who appeared in the tournament for a record 40th time, said.
Ponting conceded the batsmen needed to play better against slow bowling on the sub-continental tracks, but also pointed out that Australia have done well in these conditions in the past.
"We were getting used to the conditions. I think they (Zimbabwe spin bowlers) did a reasonable job. We know these conditions and know how to play here in India or Sri Lanka.
"We know the spinning factor is going to be a big one in this tournament. We need to play better as the tournament goes on. We are not there quite yet," said the 36-year-old Tasmanian who is attempting to lead Australia to their fifth Cup crown and fourth on the trot.Ponting said his fast bowlers will trouble all the teams in the tournament as they have variety as well as pace.
"All the three bowlers we had today are different. Brett (Lee) is accurate, (Shaun) Tait bowls with a sling-arm action,moving the ball away with the new ball and then reversing the old.Mitchell Johnson swings the ball both ways. It was one of the best one-day performance by Mitchell," he said.
Johnson grabbed 4-19 in 9.2 overs, which included two of the first four Zimbabwe wickets.Opener Shane Watson, who scored a solid 79, said he and Brad Haddin didn't start in a fashion they normally do, as the Zimbabweans were bowling well."They bowled well and at one end was spin. We knew if one of us bats long we could get to a good total," he said. PTI