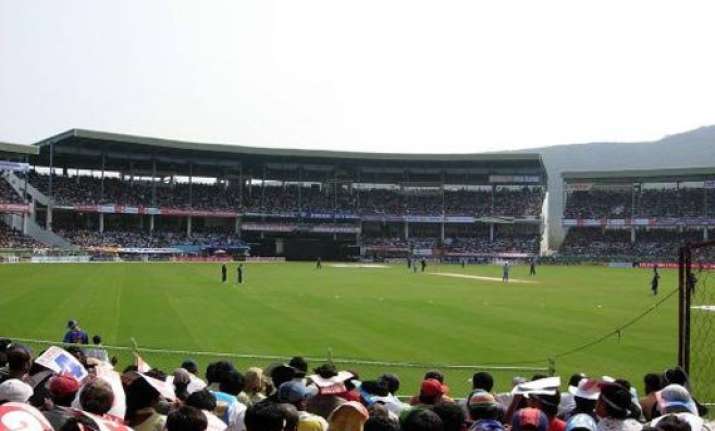 Visakhapatnam: There is little possibility of shifting the venue of the India-West Indies third ODI from here despite the cyclone 'Hudhud' threat and the hosts Andhra Cricket Association hoped the match would be conducted smoothly on October 14, the BCCI said today.
"It's difficult to shift the venue at such a short notice. The cricketers itinerary may be changed but there would be logistical problems like TV crew and other things. We're however alert on this," Board Secretary Sanjay Patel told PTI.
As per IMD warning, the cyclone 'Hudhud' is likely to hit the port city tomorrow morning as it has started to rain and there are thick cloud as well.
Andhra Cricket Association Secretary Gokaraju Gangaraju said not a single drop of water would seep into the ground as they had made a fool-proof arrangement at the Dr Y S Rajasekhara Reddy ACA-VDCA Cricket Stadium on the northern fringes of the city.
He said if it did not rain on the match day there would be no problem in conducting the match.
"The entire ground is fully covered. There's not a question of water getting into the pitch. Besides, we have excellent drainage facility to get it ready in time," Gangaraju said.
Recollecting last year's experience, he said, "We had a similar situation ahead of the last ODI here (between India-West Indies on November 24, 2013). There was no rain and the match was held without any problem. So this sort of a situation is not new to a coastal city like Vizag."
Asked whether he had a word with the BCCI, he said, "The Board has full faith in our capabilities. The match is on.