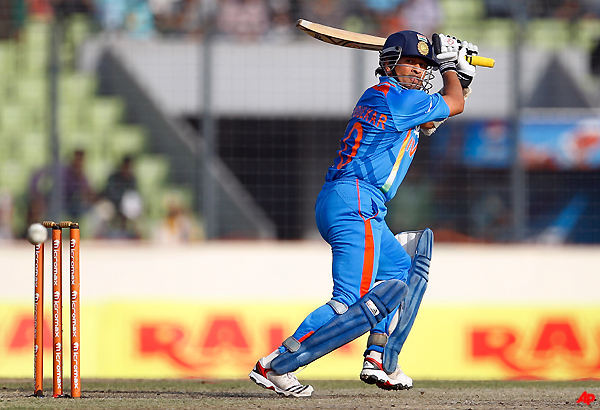 Mumbai, Mar 25:
Sachin Tendulkar
made it clear today that he does not intend to retire anytime soon and left open the possibility of playing in the 2015 World Cup.
The master batsman, who will turn 39 next month, took on his critics who have been suggesting that he should retire from the one-day format of the game and focus on Test cricket.  
Kapil Dev, Imran Khan and some other former greats have in fact expressed views that he should have retired from ODIs when India won the 2011 World Cup.
"I feel that when I retire is something that I would decide because when I started was not decided by someone else.  Those who are advising me about retirement did not bring me in the team," he said at a rare press conference here.
Tendulkar, who reached an unprecedented milestone in the game's history of making 100 international centuries nine days ago in Dhaka, was uncharacteristically blunt about his critics and said, "I feel those who say you should retire at the top, are selfish because when you are at the top, you should serve the country instead of retiring."
Asked about the prospects of his playing the 2015 World Cup to be held in Australia and New Zealand, Tendulkar refused to be drawn into any predictions but clearly did not rule playing in the tournament.
"When this question was asked in 2007 (about the 2011 World Cup), it was tough for me to answer. It's the same situation.
"I don't know what to say about 2015, if people keep praying for me, that means a lot for me. I will keep trying, the rest is in god's hands. I just want to enjoy the game. I don't want to set targets," he added.
Speaking about his 100th international century, which he scored after a year-long wait, the iconic player said, "When I reached my 100th ton, I looked at my bat and looked at the sky and asked god, what wrong did I do? Why did it take so long?"
Answering a question about rising superstar
Virat Kohli
and other emerging youngsters, Tendulkar had a word of advice for them—they should have strong commitment and discipline.
"It has taken so much of time for me (to reach where I have) and others who will play, they will have to have the commitment and discipline. When we started, we had goals, I feel I have been able to do that for the next generation," Tendulkar said.
"Virat has done really well. I hope he continues that but there are other players as well. We need such performances to continue for the team."
Tendulkar refused to predict whether his seemingly unconquerable record of 100 centuries would ever be broken but hoped that as and when it happens, the feat is accomplished by a fellow Indian.
"I don't know. I guess all the records are meant to be broken but I hope it's an Indian. I don't think you can predict that (whether it will be surpassed) but I hope it's an Indian whenever it happens," he said.
Tendulkar said his family is his source of strength and he will continue till he keeps drawing from it.
"I get my strength from my coaches and family. When I feel I don't have that, on that day, I will think of retirement."
India went on to lose the match, that too against Bangladesh, in which Tendulkar got to the feat and he said the disappointment meant that the celebrations were muted.
"I don't think that we are celebrating that one match.  Where I am right now took 23 years and not one match. I feel the result was very important. It was very disappointing. The day I got the hundred there was no celebration," he recalled.
For a player who has virtually every batting record that is there to be taken, Tendulkar said the biggest compliment for him was when the legendary Sir Don Bradman included him in his all-time Test XI.
"I think the best compliment was from Sir Don Bradman when he announced his all-time Test XI and I was part of that squad. That would be the best compliment," he said.