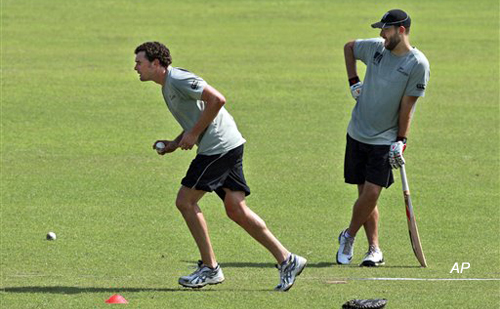 Ahmedabad, Oct 31: After their disastrous outing in the ODI series against Bangladesh , the tour of India provides New Zealand cricket team with an opportunity to start afresh, according to skipper Daniel Vettori.
"This is an important tour for us. India is playing incredible cricket with such an experienced side," Vettori told media persons here.
"We have quiet a few young players with 2-3 years of experience in first class cricket. We are looking for a good performance by the young players, and looking forward to this tour as an opportunity to comeback," Vettori said.
Expressing disappointment over the Bangladesh series which New Zealand lost 0-4, coach Mark Greatbatch said the team did not play the way it should have.The coach, however, said that his team was excited to be in India and he was looking forward to young players to hit form and find their rhythm.
Greatbatch said that since the wickets here are quiet different from that in New Zealand , they have been planning a balanced bowling attack including some spinners.PTI