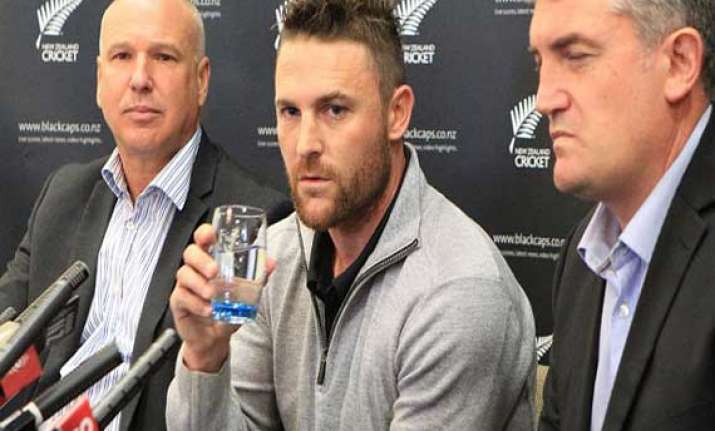 Wellington: New Zealand captain Brendon McCullum is standing by his testimony to the International Cricket Council's anti-corruption investigators and will continue to cooperate with them despite the leak of evidence to the media.
McCullum told a news conference in Christchurch on Thursday he is disappointed his evidence was now public but he will "continue to fulfil my role in the investigation."
He is reported to have told ICC investigators that in 2008 he was twice approached by an ex-New Zealand international—dubbed in the report as "Player X"—and encouraged to take part in match fixing.
Chris Cairns confirmed in a statement this week he believes he is "Player X", referred to in testimony provided to the ACSU by McCullum and former New Zealand batsman Lou Vincent, but has said it was "a complete lie" and he will prove he has not been involved in any form of corruption.
Asked on Thursday whether he stood by his evidence in the face of Cairns' denials, McCullum replied: "Yes."
"I can't go into the specifics of what's going into the investigation or my involvement in it ... but I will continue to fulfil my role in the investigation," he said. "The dealings I've had with the group that I've dealt with, I have confidence. How the leak happened, I'm not sure, but I have confidence in them.
"There was no hesitancy in my faith in the ICC as such. If one of the players found themselves in the same situation then I would certainly encourage them to go the same route I chose."
The ICC has stressed that McCullum is not suspected of any wrongdoing.
"There's still a long way to go," McCullum said. "Obviously it had been a number of years and the next little while will probably be a bit tough but my role in the investigation is on-going."
ICC president, New Zealander Alan Isaac, said the world body had not found the source of the leak of the confidential testimony but had established it was not from within the ICC's anti-corruption unit. Isaac said copies of testimony had been distributed to authorities in at least four countries.
"It's terrible, absolutely terrible and I feel for Brendon McCullum," Isaac said. ICC chief executive Dave Richardson "spoke to him a couple of days ago, I've spoken to his lawyers, we've apologized, offered to help in any way we can to right the wrongs."
Isaac said he believed players would continue to co-operate with the ICC's Anti-Corruption and Security United despite recent leaks.
"The vast majority of players don't want the game to be corrupt," he said, adding that players had a duty under the code of conduct to notify the ICC if they were approached or suspected anyone of being approached by anyone to fix a match.
Isaac said the current problems related more to domestic competitions than international cricket.
"The real risk, the allegations in the particularly matter we've been focusing on tend to involve domestic leagues and that's where the threat has been in recent times. The point being in any sport which is televised there is a risk. We believe at the international level with the protocols and the processes the risk is much reduced."
New Zealand Cricket responded to initial media reports that Vincent had provided the ICC with evidence of match fixing in as many as five countries by confirming matches played by an Auckland Twenty20 team at the 2012 Champions Trophy in South Africa were being investigated, but that no matches played in New Zealand and no current New Zealand representatives were under investigation.
Vincent is reported to have provided the information—described by one newspaper as "as treasure trove"—as part of a plea bargain and in the hope of avoiding criminal investigation for his personal involvement in or knowledge of spot fixing between 2008 and 2012. Testimony by Vincent's ex-wife, Eleanor Riley, was also leaked.
New Zealand Cricket had previously refused substantial comment the ICC's investigation of Vincent and its interest in his former New Zealand teammates Cairns and Daryl Tuffey.
Tuffey issued a statement through his lawyers Thursday saying he was aware of media reports of the content of testimony given by Riley.
''These allegations are regarded by Mr. Tuffey as the most serious kind and are unequivocally denied by him," the statement said.
Tuffey said he was yet to be presented with ''a single scintilla of evidence" to substantiate these claims.
''Mr. Tuffey is naturally frustrated by the unsubstantiated attacks on his good name levelled by a few self-interested individuals. He does, however, remain committed to continued co-operation with the authorities."