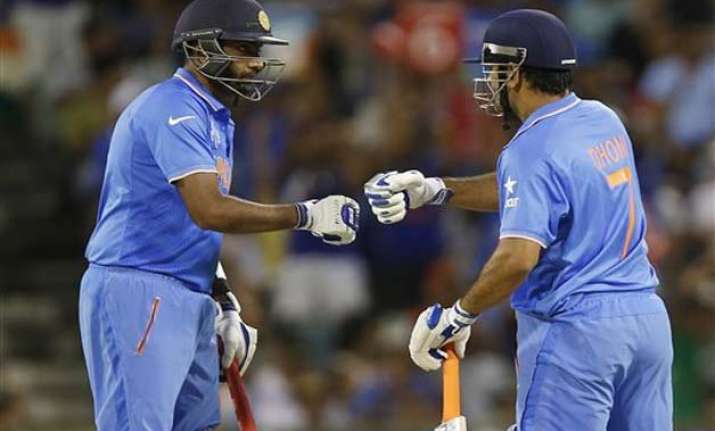 Perth: Defending champion India clinched a quarterfinal place at the Cricket World Cup on Friday with a 4 wicket win over West Indies.
The Indian camp will be happy with the win. But the think-tank would perhaps be concerned with the fact that they dropped four catches. India will next face Ireland in Hamilton. On the other hand, the West Indies will take on UAE in Napier. After this loss, the game against UAE will turn out to be a key encounter for the West Indies.
Just when everyone thought that India would cruise towards victory, the West Indies' pacers bowled with fire to give the Indian camp jitters. In particular, Jerome Taylor bursting forth with athletic brilliance and immense self-belief, caused the batsmen problems. Taylor zipped through the crease quickly and generated prodigious swing to snare the wickets of Dhawan and Rohit. He bowled a superb length and that resulted in Rohit and Dhawan getting caught in the crease. In fact, it swung for around 20 overs for the West indies.
Despite West Indies' pacers putting up a sterling performance with the ball in hand, MS Dhoni held his nerve to take India to victory. When India were 134 for 6, they found themselves in a precarious position, but in the end, the Windies were perhaps 30-40 runs short of a par score. With this win, India have qualified for the quarter-finals of the World Cup.
Mohammed Shami is declared as Man of the Match for his 3 wickets for 35 runs in 8 overs.
India beat West Indies by 4 wickets
India 185/6 after 39.1 overs
MS Dhoni 45 (56), Ravichandran Ashwin 16 (32)
India's captain Mahendra Singh Dhoni has taken India home comfortably with a boundary and with 65 balls remaining. Flatter delivery outside off stump, Dhoni pushes away from the body and gets a thick edge, the ball goes wide of Gayle at slip, the fielder gives chase and tries to stop it with his boot, but the ball touches the rope. This is India's 8th consecutive win in World Cups, equalling their previous best streak.
Under immense pressure, Dhoni kept his calm till the end and once again finishes the game for India. Ashwin supported him well and the duo finished with a half century partnership as well.
India 164/6 after 35 overs (19 runs to win)
MS Dhoni 31 (44), Ravichandran Ashwin 10 (19)
Even after 75 overs in the match, the ball is still swinging for the West Indies, but they need to snare the wicket of MS Dhoni as he remains the key in Indian chase. Ashwin has been very good at other end, supporting his skipper in taking singles and changing strikes. One thing is sure in the match, extras have played a major role in the innings of both teams.
India 135/6 after 30 overs
MS Dhoni 16 (31), Ravichandran Ashwin 1 (1)
Regular strikes by the West Indies bowlers have ensured that Indian team doesn't gather momentum at any time in the innings. Jadeja was looking good but fallen to another short ball by Russell. It's up to Dhoni and Ashwin to back themselves and deliver a victory for team India.
Ravichandran Ashwin walks in
India 134/6
Ravindra Jadeja c Samuels b Russell 13 (23)
OUT! Jadeja goes for a pull but hangs it straight into the hands of Samuels at deep square leg. He juggles a bit but manage to hold the ball safely.
India 114/5 after 25 overs
MS Dhoni 10 (17), Ravindra Jadeja 1 (8)
India are falling apart here at the W.A.C.A. This is turning out to be a thriller at Perth. It all depends on the last recognized batting pair of Dhoni and Jadeja to take India home but both are living dangerously out there. Someone has to play the innings like that of Jason Holder.
Ravindra Jadeja comes in at no. 7
India 107/5
Suresh Raina c Ramdin b Smith 22 (25)
OUT! That's a big wicket for West Indies! Short and wide outside off by Smith, Raina went chasing after that, gets a thick edge through to the keeper.
India 93/4 after 20 overs
Suresh Raina 14 (12), MS Dhoni 1 (8)
India are in deeper trouble now after the wicket of Rahane. Though he went against the umpire decision and called for a review but even that could not save him. With four down, Dhoni and Raina are the last batting pair on the crease with Jadeja yet to come.
MS Dhoni walks in at no. 6
India 78/4
Ajinkya Rahane c Ramdin b Roach 14 (34)
OUT! Edged and gone! India are in some trouble now! This was pitched up and held its line outside off, Rahane was playing with an open face as he looked to run it down towards third man, gets an edge to the keeper. Umpire raises his finger but Rahane went for an instantaneous review. The original decision stays, he has to go.
Suresh Raina comes in at no. 5
India 63/3 after 15 overs
Ajinkya Rahane 9 (22)
Kohli and Rahane have driven India safely after two early wickets till the time Kohli became the victim of another short ball. Kohli had the maximum strike and scored five boundaries. Meanwhile bowlers continue to get bounce from the pitch.
Virat Kohli c Samuels b Russell 33 (36)
OUT! Short ball by Russell. Kohli went for a pull but can't keep it down. Samuels present at long leg takes the catch. Umpires check for a no-ball but it's fine.
India 41/2 after 10 overs
Virat Kohli 22 (24), Ajinkya Rahane 0 (4)
India find themselves in some trouble, for the first time this World Cup after losing both their openers cheaply in a small chase. Kohli and Rahane need to build a solid stand here to take India through. Meanwhile bowlers are getting good movement. The ball is drifting away from the batsmen forcing them to play the shot.
Ajinkya Rahane is in at no. 4
India 20/2
Rohit Sharma c Ramdin b Taylor 7 (18)
OUT! Got him! Edged and gone. Another failure for Rohit Sharma. India have lost both openers now in a small chase. This was pitched up, Rohit pressed forward on the drive, doesn't cover for the movement off the deck, ends up throwing at keeper's gloves.
India 12/1 after 5 overs
Rohit Sharma 2 (12), Virat Kohli 1 (4)
Not a great start for India as well. After a couple of good matches for Dhawan, he failed yet again after being dismissed cheaply for 9 by Jerome Taylor. Indian batsmen need not to take risks and battle it out without losing any more wickets in first 15 overs.
Virat Kohli is the next batsman in
India 11/1
Shikhar Dhawan c Sammy b Taylor 9 (14)
OUT! Outside edge and gone! Coming around the wicket, Taylorpushes one across Dhawan and gets it to straighten. He pushes one across Dhawan and gets it to straighten. He played with an angled bat, and Sammy held the edge well to his right side at second slip.
Rohit takes the strike and Jerome Taylor to start off for the West Indies.
Indian openers Rohit Sharma and Shikhar Dhawan are making their way to the middle.
The players are back on the field and India are set to begin their chase. With the win India will qualify for the quarterfinals while West Indies need to win to consolidate their third position in the group.
---------------------------------
None of the West Indian batsmen looked to get used to the pace and bounce. Their running between the wickets was poor too. For the West Indies to have any chance of winning this game, their pacers need to strike with the new ball.
The only cause for concern for the Indian set-up would be they dropped four catches today.
Jason Holder tried to hold the innings together. He struck some meaty blows and amassed a fine half century and ended up with his career best score of 57. But it has to be said that the West Indies ended up with a below par score.
Mohammed Shami bowled with unremitting control and used the breeze that was blowing from left to right to generate a bit of inswing and take wickets upfront. He was backed up by Umesh Yadav, Mohit Sharma, Ashwin and Jadeja to put India in a strong position.
West Indies 182 all out in 44.2 overs
Kemar Roach 0 (1)
The Indian bowlers put up an inspired show to land crucial blows at regular intervals and skittle out the opposition ranks for a modest total. Jason Holder blitzkrieg have taken the total past 150 but ends up with a mistimed shot. The pacers have rarely wasted the short ball, as they have usually bowled it head high and outside the off-stump.
Jason Holder c Kohli b Jadeja 57 (64)
OUT! It's all over for West Indies here. Holder goes for the big and sliced the loft, completely mistimed and Kohli takes an easy skier.
Kemar Roach is the last man in
West Indies 175/9
Jerome Taylor c & b Yadav 11 (18)
OUT! Short ball, top edge and gone! Taylor went for the pull shot, the ball went straight up in the air Yadav takes a simple catch.
West Indies 162/8 after 40 overs
Jason Holder 43 (47), Jerome Taylor 6 (10)
42 from the powerplay for the loss of Sammy. Jason Holder is playing a captain's knock here. He is heading towards his half century and already have 2 boundaries and 3 sixes in his pocket. The partnership has bruised to 38 runs and Jerome Taylor at other end is doing well to support the skipper. He hits a six and then changes strike on the next ball.
Jerome Taylor comes in at no. 10
West Indies 124/8
Darren Sammy c Dhoni b Shami 26 (55)
OUT! Good delivery by Mohammed Shami once again. Pitched slightly short, which angled in. He looks to cut but gets a thin edge to the keeper.
TIME FOR BATTING POWERPLAY
West Indies 120/7 after 35 overs
Darren Sammy 22 (51), Jason Holder 13 (31)
Very, very sensible batting from these two, considering how the other WI batsmen threw their wickets away. For India, they need to break this partnership if they want to restrict them to below 150!
West Indies 105/7 after 30 overs
Darren Sammy 16 (36), Jason Holder 5 (16)
India after an awful tri-series, have certainly become one of the most dangerous side in the World Cup. Surprise for everyone is that the bowling is dominating so far. The bowlers are having a good time out there with West Indies struggling to cross even the 150 run mark. India are the only team so far in the tournament having restricted the opponents under 250 on all occasions.
West Indies 88/7 after 25 overs
Darren Sammy 8 (21), Jason Holder 0 (1)
Two quick wickets of Carter and Russell have certainly pegged back the chances of West Indies crossing the 200-run mark. After dropping Sammy at point, Jadeja hits back with a wonderful tossed up delivery to dismiss Andre Russell who is the second-highest strike rate impact batsman and the third-most consistent batsman in WI ODI history. Meanwhile Mohit Sharma continues his impressive performance  at the World Cup.
skipper Jason Holder walks in at no. 9
West Indies 85/7
Andre Russell c Kohli b Jadeja 8 (8)
OUT! Russell went for a big slog to a tossed up delivery from Jadeja and finds long-off. Kohli comes forward and accepts the catch.
Andre Russell comes to the crease
West Indies 71/6
Jonathan Carter c Shami b Ashwin 21 (43)
OUT! Top edge and gone. Good catch by Shami at deep backward square leg. Down leg, he connected the sweep well, albeit off a top edge, the ball was swirling away from the fielder.
West Indies 71/5 after 20 overs
Jonathan Carter 21 (37), Darren Sammy 3 (5)
Just as when Simmons and Carter were going good with a 30 runs+ stand, Mohit Sharma bowled a perfectly directed short ball to Simmons who once again went for the ball but landed in the hands of the fielder. With the wind blowing from left to right, the bowlers also generated a bit of inswing.
Darren Sammy comes in at no. 7
West Indies 67/5
Lendll Simmons c Yadav b Mohit 9 (22)
OUT! Short ball once again did the trick for Mohit Sharma. Simmons goes for the pull from outside the off stump. The ball went straight to Umesh Yadav at fine leg. West Indies are five down now.
DRINKS BREAK
West Indies 54/4 after 15 overs
Jonathan Carter 11 (26), Lendl Simmons 6 (9)
West managed to cross the 50-run mark after 13 overs without losing a wicket more but bowling too by the Indians have been upto the mark. Boundaries seems to have dried up and runs are coming only in singles. A poor and slow start by the West Indies in the first 15 overs.
West Indies 38/4 after 10 overs
Jonathan Carter 0 (4), Lendl Simmons 3 (1)
Umesh Yadav and Mohammed Shami are off to a great start once again for India. After an early wicket of Smith, few dropped chances Gayle looked good but trying to hit one again for a big shot hangs on to the fielder. Ramdin and Samuels went back in cheaply as well.
West Indies 35/4
Denesh Ramdin b Yadav 0 (1)
OUT! Another wicket. West Indies are falling apart now. Pitched up outside off, Ramdin's feet are stuck in lead and his cover drive finds the inside edge and clatters into leg stump.
Denesh Ramdin comes to the crease
West Indies 35/3
Chris Gayle c Mohit b Shami 21 (27)
OUT! That's the wicket they wanted. It's Chris Gayle who has to make his way back. He was looking good and went for a big one again to leg side. Pitched slightly short, Gayle went for the pull and top-edged it to the only man at deep square leg.
Jonathan Carter is the next man in
West Indies 15/2
Marlon Samuels run out (Mohit/Kohli) 2 (7)
OUT! Huge mix up in the middle. Gayle mistimed pull fall short of Mohit at mid-on but Samuels was away from the crease and it's an easy run out.
West Indies 8/1 after 5 overs
Chris Gayle 0 (9), Marlon Samuels 0 (1)
Good start by the Indian bowlers here with an early wicket of struggling Dwayne Smith. Mohammad Shami though is trying to keep his line and length perfect but managed to bag a wicket. The ball is moving much and the pitch too has the good bounce. Apart from a wicket of Smith, two maiden overs bowled by Yadav and Shami has put some kind of pressure from the start. Fielding has been superb with couple of boundaries being saved.
Marlon Samuels is in at no. 3
West Indies 8/1
Dwayne Smith c Dhoni b Shami 6 (20)
OUT! Outside edge and gone! Smith's struggle ends. Too close to cut, and he stayed inside the line and poked at it with an angled bat. A thin edge to the keeper and umpire raises his finger.
Mohammad Shami has the ball and Smith on strike
So the players are making their way on to the field.
India (Playing XI): Shikhar Dhawan, Rohit Sharma, Virat Kohli, Ajinkya Rahane, Suresh Raina, MS Dhoni(w/c), Ravindra Jadeja, Ravichandran Ashwin, Mohammed Shami, Umesh Yadav, Mohit Sharma
West Indies (Playing XI): Chris Gayle, Dwayne Smith, Marlon Samuels, Jonathan Carter, Denesh Ramdin(w), Lendl Simmons, Darren Sammy, Andre Russell, Jason Holder(c), Jerome Taylor, Kemar Roach
One change for India. Shami is fit so Bhuvneshwar Kumar has to make way for him.
Toss time: Its West Indies who have won the toss and they have elected to bat first
The relations between the boards might not be the greatest, but the players from both sides get along very well. Thanks largely in part to the T20 League. The likes of Gayle, Sammy, Russell and Holder in this current West Indian team are pals with a number of the Indian players. In fact Gayle and Kohli got along like a house on fire when they both played together for the Bangalore. So don't expect any tension or verbal jousts during the clash at the WACA on Friday.
Kohli was promoted to India's test captaincy when Mahendra Singh Dhoni retired from the longer format during the recent series against Australia, and questions have been raised in the domestic media about his temperament and suitability for the job.
The last few days have not been good for the team and the management especially Virat Kohli who was involved in a verbal spat with a journalist. This was however denied by the team management.