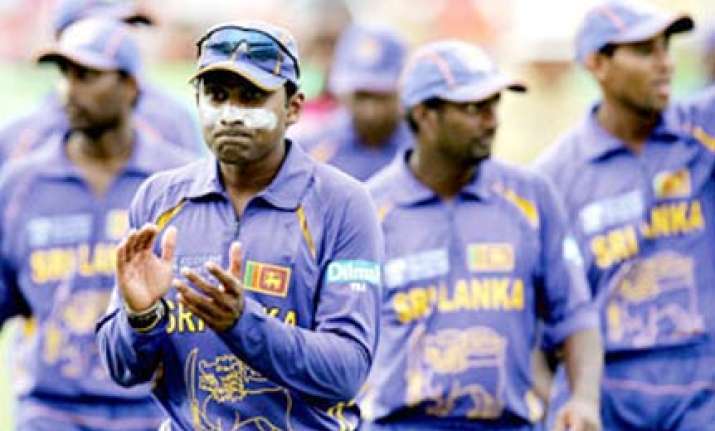 The visiting Sri Lanka cricket team, robbed of precious two days' match practice against the Board President's XI due to inclement weather, are not keen to play the third-day on Friday as a one-dayer before going into the Test series commencing from November 16.
"We are going into a Test series. The frame of mind is different for the two forms. One-dayers are not ideal preparation before Tests," said Sri Lanka team manager Brendon Kuruppu after the second day's play was called off due to unfit ground conditions following Wednesday's un-seasonal rains.
Kuruppu also said the team had the option to move a day ahead of schedule to Ahmedabad, venue of the first Test, to get an extra day of practice.
But BCCI sources said that as things stand, currently the Lankans would play the third day of the scheduled tour fixtureon Friday. 
Kuruppu said though the sun was beating down strongly on Thursday, the side wickets inside the square were still very damp.
Taking the positives from their stay in Mumbai after arriving in India on November 8, Kuruppu said, "We have lost two days of important cricket due to unexpected weather conditions. But we have utilised to the maximum the top class indoor facilities (at the MCA's Recreation Centre in Bandra-Kurla Complex)."
"We have got something out of two days in keeping fit and get the team spirit going. But we have missed out on getting a feel of the pitch and other natural conditions," he added.
The former Lanka Test cricketer said the composition of the visiting team's bowling attack this time around gives them the chance which the previous squads did not have   of adapting to whatever pitch conditions were available   to try and win a Test after 14 previous, unsuccessful attempts.
 "We have a varied bowling attack. We have the armoury to suit any surface. We have two fast bowlers who can bowl over 140kmph. We have a swing bowler and three quality spinners in (Muttiah) Muralitharan, (Rangana) Herath and (Ajantha) Mendis. There's the Angelo Mathews factor which allows us to play different combinations," he said.
Kuruppu said the team can't hide behind the excuse that SG brand of balls will be used in the Test series as they have come here prepared by practicing with this brand at home.
"We have used SG balls. All our cricketers have been using SG balls during practice especially for this tour. They are also professional cricketers who should get used to different brands. There can be no excuse," he said.
Kuruppu also said that captain Kumar Sangakkara would not be keeping wickets in the Tests and would be playing as a pure batsman, leaving Prasanna Jayawardene or Kaushal Silva to do the glove-work.
"Sanga has a better record when he plays as a batsman. He's the number one right now and we want him as a batsman. Prasanna, would most likely, keep the wickets," he said indicating the toss-up for the keeper's slot would be between Jayawardene and second-choice Silva. PTI