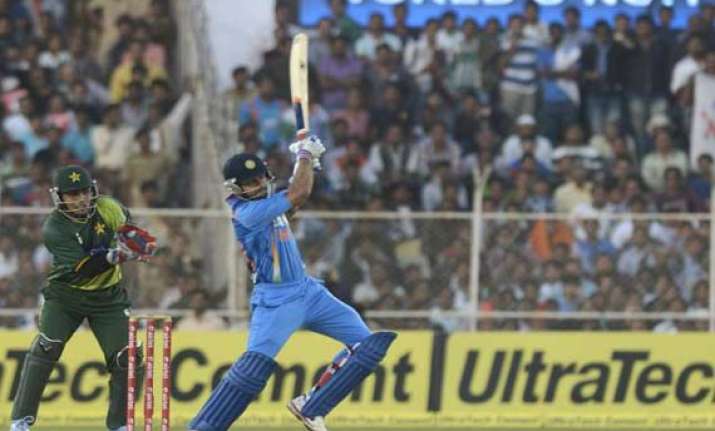 Dubai,Dec 29: India's star batsman Virat Kohli has jumped five places to a career-best fifth position in the latest ICC Twenty20 International Player Rankings table, released on Saturday.
The latest rankings were released at the end of India's T20I series against England and Pakistan, as well as South Africa's three-match series against New Zealand.
While India levelled the two-match series against both England and Pakistan, South Africa won the three-match series against New Zealand by a margin of 2-1.
Kohli scored a total of 95 runs against England and Pakistan in the four matches, thereby achieving his career-best ratings of 731.
Yuvraj Singh has also moved up, jumping six places to 13th, following his 124 runs against England and Pakistan. He also climbed up a place in the bowlers' rankings list to 35th.
The combined batting and bowling efforts has helped Yuvraj, who was also named Player of the Series against England, achieve career-best 337 ratings points in the all-rounders' table, where he is placed third.
The other Indian batsmen, who have made upward movement, include Mahendra Singh Dhoni in 25th (up by three) spot and
Ajinkya Rahane
in 74th (up by five) place.
Meanwhile, the batting table continues to be headed by Shane Watson, followed by Brendon McCullum in second place and
Chris Gayle
in third.
Pakistan captain Mohammad Hafeez who scored 116 runs against India in the two matches at a strike rate of 165.71, has moved up a place to 19th with a best-ever ratings of 594.
Second-placed Hafeez also achieved his career-best ratings of 377 as an all-rounder in the series against India.
The bowlers' table, which is headed by Saeed Ajmal of Pakistan, saw India's Ravichandran Ashwin moving up two places to be at 16th with career-best ratings of 618 that he achieved against Pakistan at Ahmedabad in the second match.
India began the series against England and Pakistan at third place with 120 ratings points and had the opportunity to become the number one ranked team on the ICC T20I Championship table if they won all their four games.
But India's 1-1 series results against both England and Pakistan, meant that they retained the third place but for the loss of one ratings point to end at 119.
Meanwhile, England (fourth), South Africa (fifth) and Pakistan (sixth) retained its pre-series rankings on the table without any loss of ratings points.
New Zealand, on the other hand, gained one ratings point but continued to be eighth with 98 ratings points.