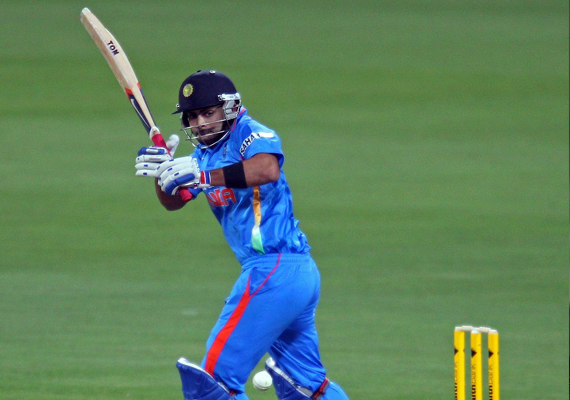 Hobart, Feb 28: Virat Kohli, whose unbeaten 133 guided India to a seven-wicket victory over Sri Lanka in a crunch cricket tri-series match here today, termed his 86-ball knock as the best of his international career.

"It has to be the best innings of my career. The kind of situation we were in, chasing 320 and also we needed bonus points, so it was a crunch game and to play an innings like that at the right time, I felt it was a great innings for me," Kohli told reporters after the match.

Asked if the innings will answer his critics, Kohli said it was more about proving a point to himself.
"Critics will always be there, the innings was more of proving a point to myself. It was like if you play well, we can take the team to victory. So it really feels nice to play that sort of an innings.

"Before my innings in Perth, I was thinking about what we going on in the media but after that I stopped watching news.  I told myself to think positive and that there is no good reason not to score run. I kept believing and I think that was the key," he added.

Kohli's unbeaten knock helped India to not only overhaul Lanka's 320 in 36.4 overs but also bag the much-needed bonus point to stay afloat in the tournament and the middle-order batsman said the win was very important for the team.

"When you have one game to play, you need to give everything and we were able to do that and we can be satisfied," he said.

"It is important to win like that after the sort of tour we had so far in Australia. We will take a lot of positives from this match when we will look back, it was like telling each of us that we can take a bit from this win. It shows this team can play like this at any point of time."

The 23-year-old vowed to play with the same intensity if India reach the finals against Australia.

"If we reach the final, we will be as expressive as today, we will not be hesitant and we will play like we did today," he said.