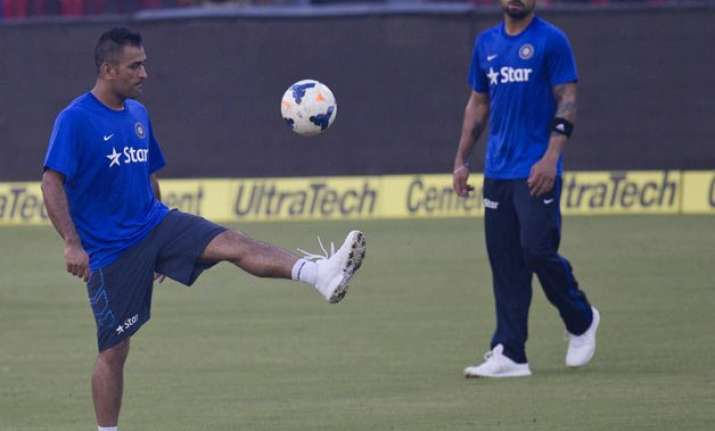 New Delhi: Team India's skipper in the shorter format of cricket Mahendra Singh Dhoni on Wednesday took a dig at his critics and also who are calling for his ouster as India's limited overs captain, saying there are a lot of "people who wait with open swords and want him to make mistakes".
Dhoni's comment assumes significance as there are reports that all is not well in the Indian dressing room. Dhoni scored a match-winning 86-ball 92 in the second match against South Africa to guide India to a 22-run victory and level the ODI series 1-1.
The immediate comments of Dhoni was seen in the cricket fraternity as Captain cool's reply to continuous criticism that were levied on him from various fronts. Former cricketers and commentators have said that there are indications that currently Team India is a divided house.  
In the Indore ODI every player of Team India was seen applauding Dhoni's half century by getting up from their seat and clapping, however, interestingly Virat Kohli did not get up from his chair to applaud his skipper's match winning knock.
There are also some reports that Kohli and Dhoni sat apart from each other when the team went to watch a movie. Players also seemed confused and some were seen with captain and others with vice-captain.
Experts are also baffled over the recent dismissals of Virat Kohli in the ODIs and T20s. In the ongoing series against South Africa, Virat was twice run out which seemed quite unlike him. After the first ODI at Kanpur, Dhoni said the the team did not scored quickly during 35-40 overs and ultimately losing the match by five runs.
"We lost momentum between overs 34-40 during the chase. We were positioned very well. But I felt around 35-40 overs we failed to get a move on. That would have made things easier," said Dhoni in his post match conference.
Kohli and centurion Rohit Sharma were at the crease in those overs. Analyst says that it was Kohli's 11 runs in 18 balls that made a difference to the host nation.
Since Virat took over the rein of India's test team, his performance in the ODI has drastically gone down. Virat Has played 17 ODIs in which he scored just 401 runs at an average of 28.6. Virat has not scored a single half century in the last 12 ODIs.
However, Virat during the same period has scored 4 centuries in Test with a batting average of 63.
Virat has come to bat at number 4 position only in the last five ODIs which he is reportedly unhappy about. But scores at his favourite number 3 position in a last few innings have not been at par either.