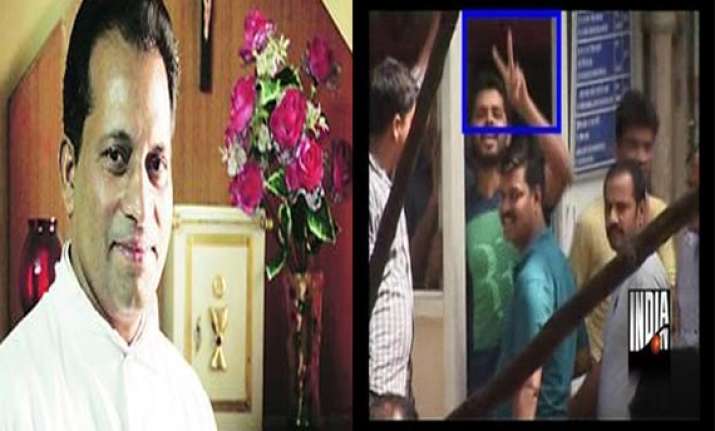 IPL spot-fixing:  Sreesanth wept  before Kerala priest in Tihar jail, has lost 8 kilos weight  
India TV webteam
New Delhi, June 1: Disgraced Rajasthan Royals bowler S. Sreesanth wept when he saw the priest in Tihar jail, he had last met six years ago in Kerala, and said: "Father, What have I done to be here? I am innocent. Please ask everyone to pray for me."
"I asked him to try not to get depressed. But he turned around and said, how can I do that? I have never been inside jail. I haven't done anything to be here", said father John Puthuva of Ernakulam to Indian Express.
"He (Sreesanth) has lost about eight kilos and complained of a headache since he didn't have his contact lenses all this while. He hadn't eaten his breakfast in the morning. But as soon as I met him, he ordered lunch and promised me he would eat it later. When I insisted that he have something with me, he agreed to a glass of Fanta," said Puthuva.
After about two hours of prayer and counselling, as Puthuva was about to leave, Sreesanth knelt and said, "Please pray for me. I have done nothing wrong."
The meeting took place on Thursday, when Puthuva finished his rounds with other prisoners and undertrials and met Sreesanth.
Puthuva recalled when the emerging bowler first met him in Kerala.
"He was like a child when I first met him. He was excited about every match and would often ask me to conduct a prayer for him before he went to the field," said Puthuva.
Sreesanth lived two blocks from Puthuva's office in Palarivattom, Ernakulam. Puthuva used to visit his family regularly and conduct weekly prayers.
Every Tuesday, the Hindu family would accompany Puthuva to the church.
Sreesanth's mother Savithri Devi would call Puthuva almost every week asking him to conduct prayers at their house, said the priest.
"Sreesanth would always be very excited to see me. He may be restless on the field, excited and full of energy. But he would look forward to seeing me and waited patiently for me to conduct the prayers. All he would say is 'pray for me Father'," the priest recalled.
Last October, Puthuva moved to Delhi and began working for 'Prison Ministry India', an NGO that counsels prisoners in Tihar Jail.
"For six years I had lost touch with Sree's family. However, on May 15, I found out that he had been brought to Delhi. I tried meeting him at the Special Cell office in Lodhi Colony, but couldn't. It was only in Tihar that I met him personally after so many years," Puthuva said.