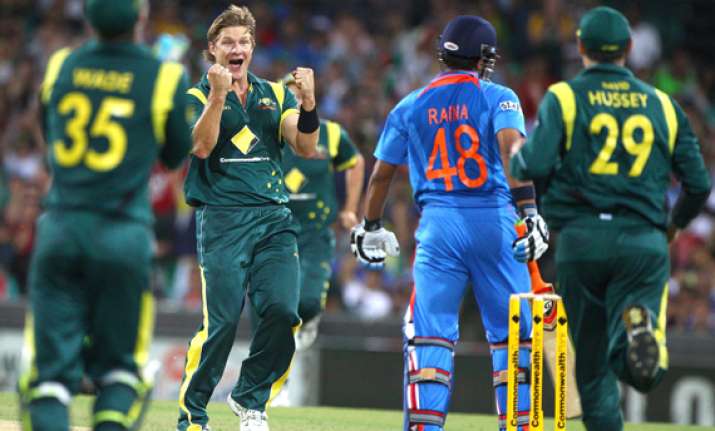 Sydney, Feb 26: India's batting floundered miserably again to give Australia a massive 87-run victory in the tri-series ODI match here today and only a miracle can now help the beleaguered team to qualify for the finals.

The Indians did reasonably well in the death overs to restrict the hosts to 252 for nine but could never really recover from the early jolts to fold up for a paltry 165 in 39.3 overs to suffer their third defeat on the trot in what turned out to be a lop-sided contest marked by controversial 'obstruction' incidents.

The resounding victory has given Australia a berth in the finals as they rode on useful batting contributions from David Warner (68), Matthew Wade (56) and David Hussey (54) and some disciplined bowling on a sporting SCG track.

It was again the spineless batting display that cost India dearly in a match which they desperately needed to win to keep their hopes alive for a berth in the finals which looks out of their reach now.

The lacklustre show by the Indians gave the Australians a bonus point which has now put them on top of the points table with 19 points followed by Sri Lanka who have 15 points. India remained static on 10 points.

Although the Indians seem down and out, they still have a slender chance of sneaking into the finals if they can manage to beat Sri Lanka with a bonus point in their last league match and hope that the islanders lose to Australia in their last match with a big margin.

In such a scenario, both India and Sri Lanka will be tied with 15 points and the net run rate will come into play.