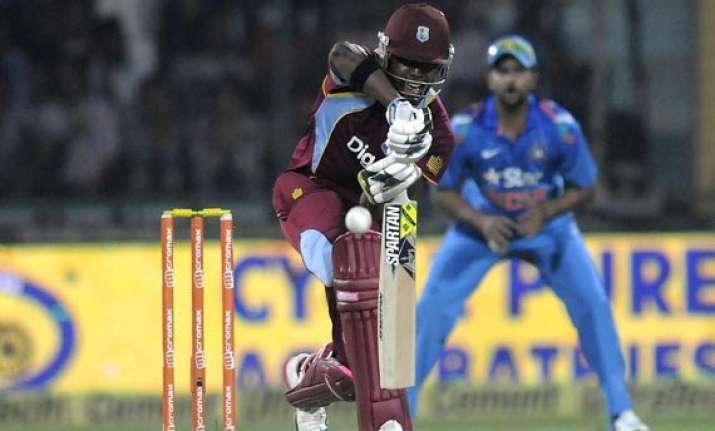 New Delhi: Scoreboard after India defeated West Indies by 48 runs in second ODI and level the 5-match series by 1-1 in Ferozshah Kotla stadium on Saturday.
Chasing a 264-run target, West Indies were cruising at one stage as they were 170 for two in the 36th over before their innings fell apart on a sluggish Ferozshah Kotla track. The Caribbean side lost their last eight wickets for just 45 runs to be all out for 215 in 46.3 overs.
Mohammed Shami (4/36) recorded his career-best figures while all-rounder Ravindra Jadeja (3/44) and leg-spinner Amit Mishra (2/40) snared five wickets between them as the inept technique of the Caribbeans against spinning deliveries was exposed thoroughly.
India innings
| | | |
| --- | --- | --- |
|  Ajinkya Rahane |  c Bravo b Sammy |  12 |
|  Shikhar Dhawan |  b Taylor |  1 |
|  Ambati Rayudu |  c Sammy b Benn |  32 |
|  Virat Kohli |  c Samuels b Rampaul |  62 |
|  Suresh Raina |  c Pollard b Taylor |  62             |
|  MS Dhoni |  not out |  51* |
|  Ravindra Jadeja |  b Taylor |  6 |
|  Bhuvneshwar Kumar |  c Pollard b Bravo |  18 |
|  Mohammad Shami |  not out |  1* |
|  Extras |  (b 4, w 13, lb 1 ) |  18 |
|  Overs |  innings break |  50 |
|  Total                                   |  for 7 wickets |  263 |
|  Fall of wickets |  1-4 (Dhawan, 1.4 ov), 2-50 (Rahane, 12.5 ov), 3-74 (Rayudu, 17.4 ov), 4-179 (Raina, 36.5 ov), 5-196 (Kohli, 40.4 ov), 6-219 (Jadeja, 45.1 ov), 7-248 (Kumar, 48.6 ov) |                            |
Did not bat: Amit Mishra, Umesh Yadav
Bowling
| | | | | |
| --- | --- | --- | --- | --- |
|  Bowler |  Overs |  Maidens |  Runs |  Wickets |
|  Ravi Rampaul |  8              |  0 |  47            |  1 |
|  Jerome Taylor |  10 |  0 |  54 |  3 |
|  Sulieman Benn |  10 |  0 |  47 |  1 |
|  Dwayne Bravo |  8 |  0 |  51 |  1 |
|  Darren Sammy |  4 |  0 |  14 |  1 |
|  Marlon Samuels |  5 |  1 |  21 |  0 |
|  Andre Russell |  3 |  0 |  14 |  0 |
|  Kieron Pollard |  2 |  0 |  10 |  0 |
West Indies innings
| | | |
| --- | --- | --- |
|  Dwayne Smith |  b Shami |  97 |
|  Darren Bravo |  b Shami |  26 |
|  Kieron Pollard |  b Mishra |  40 |
|  Marlon Samuels |  c Kohli b Yadav |  16 |
|  Denesh Ramdin |  c Raina b Mishra |  3           |
|  Dwayne Bravo |  c Dhawan b Shami |  10 |
|  Andre Russell |  st Dhoni b Jadeja |  4 |
|  Darren Sammy |  b Jadeja |  1 |
|  Ravi Rampaul |  c & b Shami |  16 |
|  Jerome Taylor |  c Kumar b Jadeja |  0 |
|  Sulieman Benn |  not out |  0* |
|  Extras |  (w 1, lb 1 ) |  2 |
|  Overs |  match over |  46.3 |
|  Total                                   |  all out |  215 |
|  Fall of wickets |  1-64 (Darren Bravo, 13.1 ov), 2-136 (Pollard, 28.5 ov), 3-170 (Smith, 35.4 ov), 4-183 (Samuels, 39.1 ov), 5-189 (Ramdin, 40.2 ov), 6-195 (Russell, 42.1 ov), 7-199 (Sammy, 42.6 ov), 8-199 (Bravo, 43.2 ov), 9-201 (Taylor, 44.2 ov), 10-215 (Rampaul, 46.3 ov) |                            |
Bowling
| | | | | |
| --- | --- | --- | --- | --- |
|  Bowler |  Overs |  Maidens |  Runs |  Wickets |
|  Bhuvneshwar Kumar |  7             |  0 |  32           |  0 |
|  Umesh Yadav |  9 |  0 |  42 |  1 |
|  Mohammad Shami |  9.3 |  0 |  36 |  4 |
|  Ravindra Jadeja |  9 |  0 |  44 |  3 |
|  Amit Mishra |  10 |  2 |  40 |  2 |
|  Virat Kohli |  2 |  0 |  20 |  0 |
Result: India won by 48 runs
Man of the Match: Mohammad Shami
Toss: India chose to bat