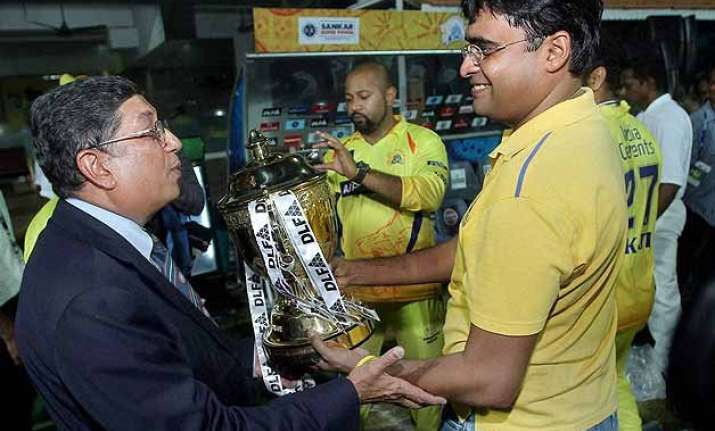 Chennai/New Delhi:  India Cements Ltd (ICL), owner of Chennai Super Kings (CSK) is planning to move the Supreme Court against the order of the court appointed committee suspending the team from Indian Premier League for two years.
Top sources in the company said they held discussions on the Lodha committee recommendations and decided they would approach the apex court seeking relief.
On the other hand, Suspended for life by the Supreme Court-appointed Justice RS Lodha committee, Rajasthan Royals former co-owner Raj Kundra on Tuesday said he is shocked and disappointed by the punishment handed out to him.
Also Read: IPL Governing Council to meet on July 19 to take stock
Kundra was suspended for life by the Justice Lodha committee, which handed out punishments to those found guilty in the 2013 IPL betting scandal. While Kundra was suspended for life, the franchise which he co-owned until last year, was barred from IPL for two years.
"Many inaccuracies...Have requested for a copy of the judgement- obviously very shocked and disappointed... #Faith," Kundra tweeted.
The Justice, while delivering the three-member panel's verdict, said that Kundra should have known the consequences of his actions.
"As part owner having 11.7 per cent of the franchise, Kundra should have conducted himself in accordance of his stature. Betting is a crime punishable in India and it is corrupt practice against BCCI constitution. It is difficult to accept that as a UK citizen, he did not know that betting was against the law in India," Justice Lodha has observed.
Justice RM Lodha, chairman of the Supreme Court appointed Committee, announces the committee's verdict on IPL fixing in New Delhi. (PTI Photo)
"He (Raj Kundra) is declared ineligible for participation in the sport of cricket as explained in the anti-corruption code for a maximum period of five years under article 2.2.1. Two: He is suspended for life from activities as explained in article 7.5 under level 4. And three: he is suspended for life from being involved in any type of cricket matches under section 6, rule 4.2. The above sanctions commence from the date of this order," Justice Lodha said while giving out the verdict in a packed press conference.
The Committee was constituted by the Supreme Court in January this year with its terms of reference being to announce the quantum of punishment against Meiyappan, Kundra and the two franchisees India Cements Ltd, owner of CSK and Jaipur IPL, owner of Rajasthan Royals.