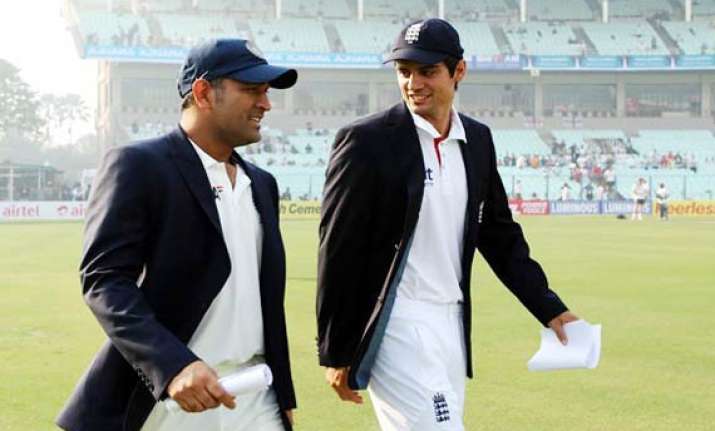 Mumbai: India and England, who have normally engaged in three or four-Test rubbers prior to the upcoming best-of-five series from July 9, have inked an agreement to stick to this format in future contests too, according to Cricket Board Secretary Sanjay Patel.
"It will be a five-Test series (at home and away) against England and four-match rubbers against Australia. Both England and Australia will play four Test series against us (home and away) in the next eight-year cycle (from 2015-2023)," said Patel at an interaction with media persons here today.
The new FTP agreements and MOUs have been inked by all the ten full Test playing members of the revamped International Cricket Council at its annual meeting in Melbourne recently, said Patel.
As per the new FTP, India would have two home Test series every season between October and March unless they have to visit Australia which has retained the right to host the Boxing Day Test match at Melbourne, the BCCI official informed.
This season West Indies would visit India and play a three-Test and best-of-five ODI rubber between October 4 and November 18 after the completion of the Champions League T20 tournament which is scheduled to be held in the country from September 14 and October 4.
Next year, it would be the turn of South Africa to visit India to play three Tests and ODI to be followed by England who would split their tour into two halves - playing the Tests before the Christmas break and then the ODIs on their return in the early part of 2016.
The revamped ICC structure, which has come in for a lot of criticism, will see BCCI earn a staggering Rs 4000 crore over the eight-year cycle which works out to just over 13 times what it will earn in the current cycle (300 crore), said Patel.
"Our share of the revenue from ICC events like World Cup, World T20 etc is 22 per cent of gross plus four per cent afterwards. England's will be 4.7 per cent of gross and Australia's 2.9 per cent. South Africa's share is 1.3 per cent while West Indies and New Zealand's share would be 0.8 and 0.5 per cent respectively," said Patel.
"BCCI plans to use most of this money for development of the game and related infrastructure. But details will be finalised in the Working Committee meeting," said Patel, who added that ICC is projected to earn in the region of USD 2.8 to 3 billion in the next eight-year cycle.  He also confirmed that India has agreed to play six bilateral series of Tests and ODIs with arch-rivals Pakistan in the same period, provided the green signal is given by the Central Government.
"Yes. We have agreed to this but with the rider that it will be subject to Indian Government's clearance." The Asian cricket giants have not engaged each other in a bilateral full tour since India's visit across the border in 2006 though there was a series of ODIs and a lone T20 International between the two teams in India in December 2013.  The BCCI would not be sending a team to take part in the T20 event of the September 19-October 4 Asian Games in Incheon, South Korea, said Patel.
Patel asserted that the Board is sticking to its policy of not favouring use of the controversial Decision Review System (DRS) till it's satisfied that it's fool-proof.  The BCCI Secretary said the matter regarding the suspension of Rajasthan Cricket Association is being discussed with the State Government.
Saying the BCCI has received a reply from suspended Rajasthan Royals player Ajit Chandela, Patel said the Board was awaiting legal opinion about the constitution of its disciplinary committee - following the sidelining of panel member N Srinivasan as BCCI chief by the Supreme Court - before taking a decision on the cricketer's reply.  Chandela was suspended in the wake of the IPL spot-fixing scandal in 2013.