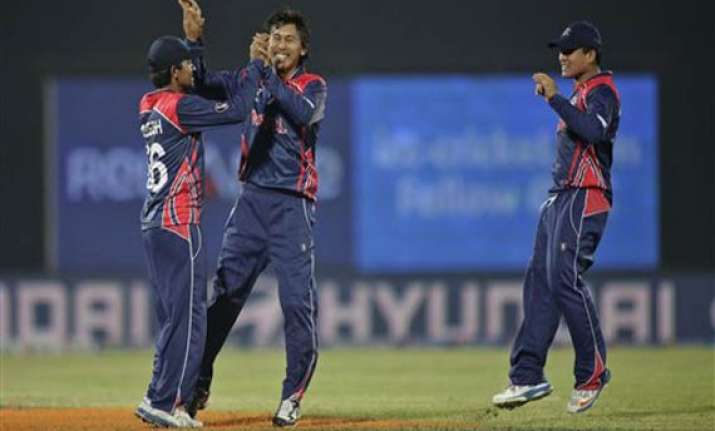 CHITTAGONG, Bangladesh: Subash Khakurel hit a maiden half-century and Jitendra Mukhia claimed career best 3-18 Thursday to help Nepal notch its second victory in the World Twenty with a nine-run win over Afghanistan.
Khakurel struck 56 off 53 balls as Nepal scored 141-5, recovering from a relatively sluggish start. Nepal bowlers, complimented by solid fielding, left Afghanistan scampering at the outset and eventually restricted them to 132-8.   
Afghanistan raised hopes of a victory in the last over when they required 24 with three wickets at hand. Asghar Stanikzai hit a series of boundaries off Sompal Kami to bring down the equation to 10 off two balls.   
However, the desperate attempt of hitting another six went in vain with Gyanendra Malla taking a simple catch at long-on to dismiss him.   
Stanikzai struck six fours and one six in his 49 off 36 balls.   
But the early of Afghanistan innings was dominated by Jitendra Mukhiya (3-18), who ripped through the Afghan middle order by taking two wickets on consecutive deliveries.
He was aided by Shakti Gauchan in triggering the collapse in the Afghan innings to take the match completely away from their grips.   
Gauchan had figures of 2-25, while Sompal Kami also took 2-32.   
Khakurel smashed six fours and one six in 56 off 53. He was sluggish at the start but guided the side toward a safe target as wickets were tumbling.   
His 76-run partnership with Sharad Vesawkar set the tone. Vesawkar scored 37 off 32 and Gyanendra Malla made 22.   
Shapoor Zadran took 2-19 for Afghanistan.      
Scores:
Nepal 141-5 in 20 overs (Subash Khakurel 56, Sharad Vesawkar 37; Shapoor Zadran 2-19, Mirwais Ashraf 1-14) def. Afghanistan 132-8 (Asghar Stanikzai 49, Shafiqullah 36; Jitendra Mukhiya 3-18, Shakti Gauchan 2-25) by nine runs.