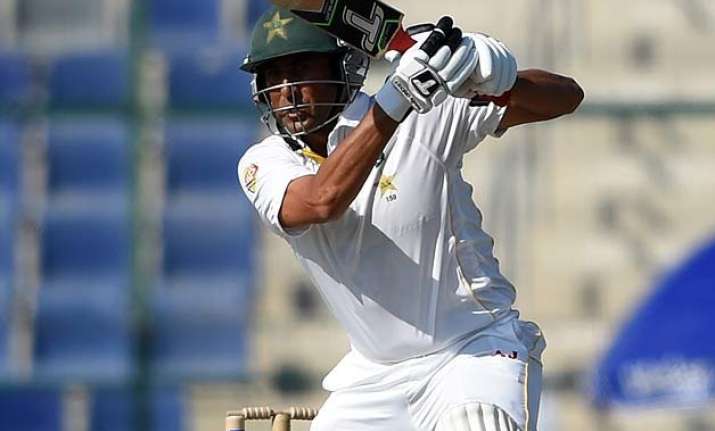 Karachi: Like Sachin Tendulkar, Pakistan's record breaking Test batsman Younis Khan too wants to end his career in front of his home crowd.
"I have this desire that just like Sachin (Tendulkar) played his last Test in front of his home crowd in India with his family, relatives, friends and coaches present I want to experience the same feeling," Younis said on Geo Super channel last night.
"I think it was the most fitting way for Tendulkar to end his career and I would like the same to happen to me.
"The fact that we have not been able to play in our own country for the last six years does hurt. I think as a nation we just need to improve and change things so that we can resume playing at home," Younis said.
"If ever I get this opportunity to play my last match in Pakistan with my loved ones and all those who have supported and educated me present there the experience would bring tears to my eyes," the senior batsman said.
Younis, 37, became Pakistan's highest Test run-getter when he surpassed Javed Miandad's 23-year old record tally of 8,882 runs on the opening day of the first match against England in Abu Dhabi.
"No professional cricketer likes to be playing his home series anywhere else but in his country. Unfortunately we have had to bear this because of the situation. I never cry but if I get to retire in front my home crowd I will definitely cry that day," he said.
Younis, an enigmatic figure in Pakistan cricket, also spoke about his burning desire to become the first Pakistani player to score 10,000 Test runs.
"Yes that is in my mind because I look at India and Sri Lanka in our region and I see several of their batsmen have crossed this 10,000-run landmark. I want this milestone to also belong to a Pakistani."
Younis said he had no immediate plans to retire as he was at his fittest and enjoying his cricket.
"No one can predict what happens the next day or next week but I have my sights on scoring 10,000 runs and getting more hundreds not for myself but for my country."
Younis said even though he had surpassed the record set by Miandad he was no match for the legendary batsman.
"I have learnt a lot from Javed bhai, from how to pack your stuff in the cricket coffin box to how to adjust on particular pitches. I owe him and others who encouraged and believed in me a lot," Younis added.
Younis talked about the need for the culture to change in Pakistan cricket.
"To play for your country is a singular honour and we must always keep that in mind whether a player has played just one Test or 100 they deserve to be given respect."