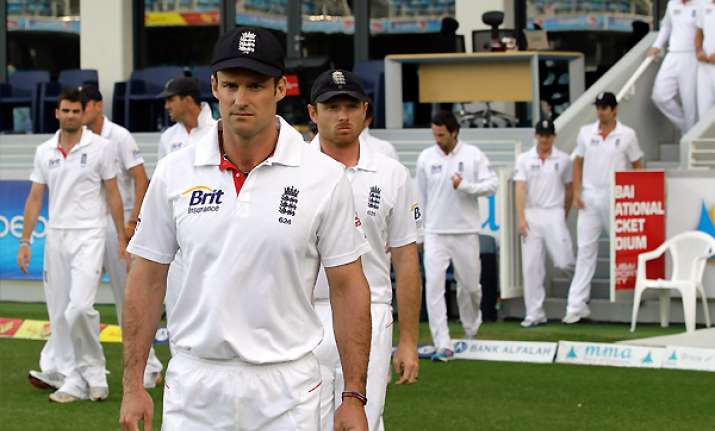 Dubai, Feb 7: England captain Andrew Strauss has called on his underperforming batsmen to learn from their struggles on the spin-friendly pitches in the humiliating series loss to Pakistan with test tours to Sri Lanka and India looming.

Pakistan clinched its first whitewash against England with a clinical 71-run win in the third and final test on Monday, having won the first match by 10 wickets and the second by 72 runs in a series in which a fifth day's play was never required.

"We are disappointed that we have not coped better to the challenges that came our way," Strauss said. "This is a good eye-opener for us and good wake-up call that things are not easy in this part of the world."

The subcontinental-like pitches in the United Arab Emirates took spin from the first day, and England will need to improve before its trip to Sri Lanka next month and its tour of India later this year.

England hasn't won for a decade in India, Pakistan or Sri Lanka, mainly because of its batsmen's inability to conquer slow, turning tracks on which the ball doesn't come on to the bat.

"English sides generally have not played well in these sort of conditions in the past," Strauss said. "We need to break that tradition and we are not going to do that by doing the same things."

Strauss hit 150 runs in six innings, featuring in one of only three half-centuries scored by England's top six batsmen in the series.

England's batsmen had no answer to the brilliance of offspinner Saeed Ajmal and left-arm tweaker Abdur Rehman, who combined for 43 wickets in the series.

Ajmal had claimed he would unveil a mystery delivery in the series, but in the end it wasn't required with his "doosra" — a delivery disguised as an offbreak that actually turns away from the right-handed batsman — doing the damage.

"I haven't been involved in any series where so many of our batsmen have had a hard time as much as this one," Strauss said. "We have all got some questions to answer individually, some soul searching and thoughts to put into how we can do things better.

"Pakistan bowlers are quite unique," he added. "They are different type of spinners. They made life difficult for us and when we did get in front of them in the tests, they were able to wrest the initiative back in their favor."

England had won six straight test series — including a 4-0 whitewash of India — and then took a five-month break before arriving in the UAE to take on a Pakistan team which had drawn with South Africa in 2010 and defeated Sri Lanka in October.

The team had an ideal chance to level the series in the second test when requiring only 145 runs to win, but Rehman and Ajmal combined to skittle out England's batsmen for just 72.

While hinting there may be changes for the Sri Lanka tour, Strauss is happy with the players he has been leading.

"Look, nobody has the right to play for England forever," Strauss said. "I think it's important for us to take some time to let the dust settle, start thinking about what went wrong individually.

"I still believe that, by and large, the best players in England are here in Dubai."