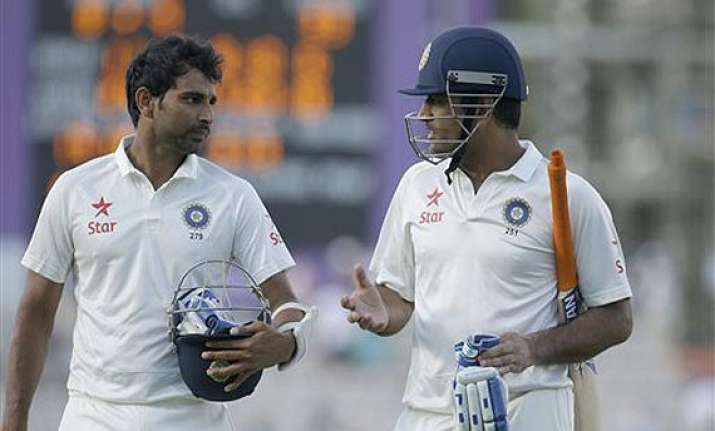 Southampton:  India still needed 47 runs to avoid the embarrrassment of a follow-on after pathetic shot selection by some of the top-order batsmen, which allowed England to tighten their grip on the third cricket Test here today.
At stumps, India were precariously placed at 323 for eight, with skipper Mahendra Singh Dhoni waging a lone battle with a gritty half-century. Almost all the Indian batsmen got starts but failed to convert into a big score which is required while chasing a mammoth first innings score.     
India are still 246 runs behind England's first innings score of 569 for seven. At stumps Dhoni (50 batting) and Mohammed Shami  (4
batting) were at the crease battling to keep India in this Test match with two full days to go.     
James Anderson (3/52) and Stuart Broad (3/65) hunted in pair while Moeen Ali (2/62) was a beneficiary of poor shotmaking by a couple of Indian players. It was terible shot selection that brought about the downfall of Rohit Sharma (28) and Ajinkya Rahane (54), both of whom looked set for long haul.     
Rohit after a 74-run stand with Rahane was guilty of charging down to part-time off-spinner Ali failing to clear Stuart Broad at mid-off. Rahane, who scored a gutsy half-century after a fine spell from Broad in the pre-lunch session, mishit a half-tracker from Ali to be caught by substitute fielder Sean
Terry at mid-on. Rahane hit five boundaries in his 113 ball knock and his dismissal proved costly in the broader context of the Indian innings.