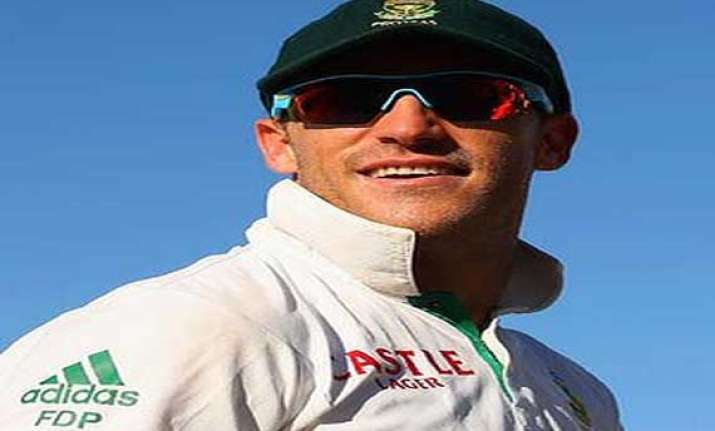 Dubai, United Arab Emirates:  South Africa's Faf du Plessis on Saturday fined  50 per cent of his match fee for ball tampering during the second cricket test against Pakistan.
Du Plessis was seen on television Friday evening rubbing the ball on the zipper of his trouser pocket and the on field umpires called up captain Graeme Smith, changed the ball and awarded Pakistan 5 penalty runs.   
Du Plessis was spotted by TV umpire Paul Reiffel from Australia, who informed the on-field umpires to take necessary action against the player.   
The on field umpires, Ian Gould and Rod Tucker, reported the incident to match referee David Boon soon after the third day's play and du Plessis was summoned for the hearing.   
"After discussions with Mr du Plessis...this was not part of a deliberate and/or prolonged attempt to unfairly manipulate the condition of the ball," Boon said in a statement as he handed the fine to du Plessis before the start of fourth day's play.   
"...the imposition of a fine of 50 per cent of his match fee is appropriate considering the circumstances."   
Du Plessis is the first South African to be charged for ball tampering.   
He was charged under Level 2 offence in which the minimum punishment is 50-100 per cent of player's match fee and/or two suspension points, which translates as a suspension of one test, two ODIs or two Twenty20s.   
It's also only the second time in the history of test cricket that 5 penalty runs were awarded to any team for ball tampering.   
Pakistan was at the receiving end during the Oval test in 2006, the last and only time a team was penalized five runs for ball tampering in a test match.   
Then Pakistan captain Inzamam-ul-Haq reacted strongly and decided not to continue the test in protest. Australia umpire Darrell Hair reacted by awarding the game to England -- the only forfeit in the history of test cricket.   
This month, the ICC amended its laws regarding the condition of balls, saying "if a player responsible can be identified" the ball will be changed, a five-run penalty will be awarded, and the player responsible will be reported.   
Vice-captain AB de Villiers had defended his team-mate on Saturday and said his team doesn't cheat.   
"Honestly, we're not the team that scratches the ball," de Villiers said. "We don't cheat, it's as simple as that. I know Faffy very well, he's the last man to try anything like that."