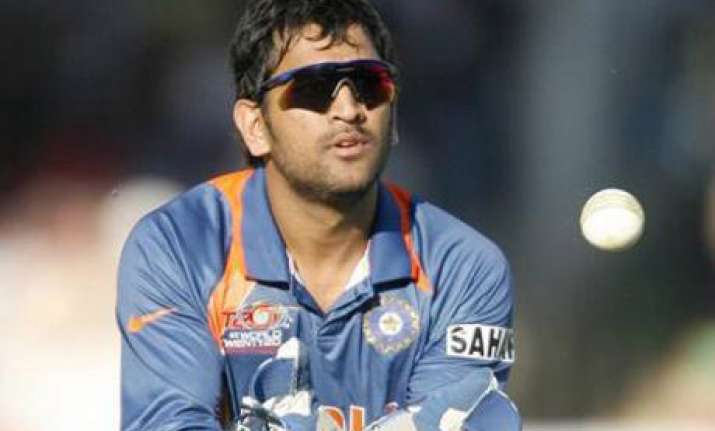 New Delhi, Feb 14 :  Indian captain Mahendra Singh Dhoni and Australian skipper Ricky Ponting  on Sunday expressed unhappiness with the Chinnaswamy Stadium track, saying that itwas turning too much in their warm-up game and they would expect better wicket in the World Cup matches.

Piyush Chawla and Harbhajan Singh exploited to turning pitch with figures of 4/31 and 3/15 respectively to help India score a thumping 38-run win over Australia in their firstwarm-up game here.

"It will be difficult to chase anything over 230 odd on such kinds of tracks. It would be good if the wicket turnsslightly less ahead," said Dhoni after the match.

Ponting said he thought the track under-prepared and wanted better wickets in the proper tournament."It was hard to bat on right through the day. It spun alot in the second innings. Hopefully as the tournament goes on, we will get better wickets than this one. This one looked a bit under prepared," said Ponting.

"We know that as the tournament goes on, we could get wickets like this we will have to find a way to do well,"added Ponting.
Watch Video

Dhoni praised the efforts of Chawla for demolishing the Australian middle-order."Piyush has a good googly and nowadays we see that the umpires give more lbws. He turns the odd one and has a very good wrong un," the captain said Dhoni also ruled out any injury worry to both Sachin Tendulkar and Zaheer Khan. The duo did not did not play today due to small niggles.

"When we have players who have a few niggles, we have to be careful. It's not about winning these warm-up games. The real task starts when we get into the tournament. Sachin and Zaheer have small niggles," he said.

"Sachin will definitely play next game (in Chennaiagainst New Zealand on February 16. The Chennai crowd love him. As for Zaheer, he has a minor groin strain; so we willhave to wait and watch."

Dhoni, who had three stumping dismissals today, also seemed to be satisfied with his performance behind the wickets."Stumpings is quite a rarity in ODI format, may be the wickets are too placid or the spinners not good enough.

In my reading that the wickets are too placid and its an indication that the spinners have bowled well. Good match for me behind the stumps," Dhoni said.

Ponting, who returned to competitive cricket after a finger injury lay-off and top-scored for Australia with ahard-earned 57 off 85 balls, said it was nice to spend time in the middle and make a substantial contribution.

"I had a 3-4 training sessions before this game and it was nice to spend time there. It was good," he said.Chawla, surprise inclusion in the World Cup squad, proved
the critics wrong and brought his side back into the match with a double strike in consecutive deliveries in the 29th over and took two wickets later to play a huge role in India's victory.

"It's a great feeling. When I started to bowl in the first Powerplay, the ball was turning and I knew if I bowled well, there was something for the spinners here. The way Watson was batting .. it was a good catch for me and the team.

The wicket of Ferguson was most satisfying," he said.Chawla said he has good chance to make it to the final XI if he continued to perform well.

"My place in the eleven will depend on things. We have quite a few good spinners. If the pitch is slow and helps spinners, I will have a good chance to make it," he added. PTI