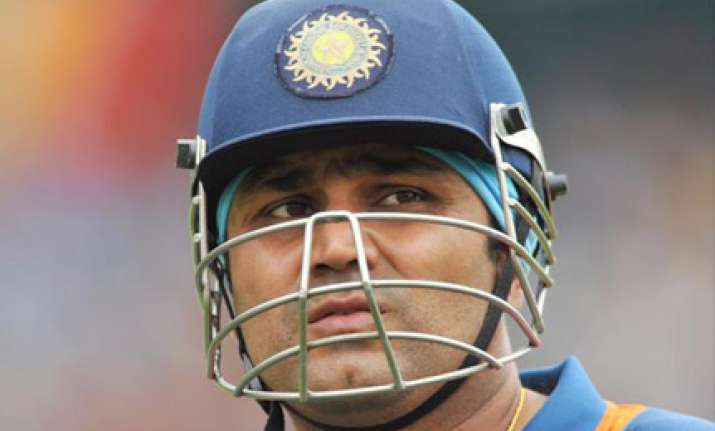 Bangalore, Feb 11 :  At his destructive best, Indian opener Virender Sehwag can turn a match on its head with just a short stint at the crease but come this World Cup, he plans to prolong the agony for his rivals by being there for the entire 50 overs -- a feat he has not achieved before.
"I think I have never played 50 overs in one-day cricket. The maximum I have played is 43 or 44 overs. But this time I will try to bat 50 overs and give a good start to the team. I have been unsuccessfully trying this for the last 10 years and the effort is still on and will be there," Sehwag told reporters in an open media session ahead of the mega-event starting February 19.
Expectations are sky high but Sehwag says he does not feel the pressure as he his captain Mahendra Singh Dhoni and coach Gary Kirsten have asked him to play his natural game no matter what the situation. "I think nobody is telling me what to do, that's the good part of our team. The coach and captain just allow me to
bat the way I bat. So, they are not putting any pressure on me. They said you just go and play your natural game. If you score runs we are happy and if you don't score runs then also we are happy," Sehwag said.
"My role is to go out there and enjoy myself and give a good start to the team. If I score 20 runs in 10 balls or 100 in 70, 80 balls I am happy with that," he added.
The 32-year-old's trademark style is to go after the bowling from the word go, but he said he has slightly toned down his aggressive instincts. "For the last three years, I was in a good frame of mind.
I have changed a little bit. Now I give respect to the new ball. I make sure that I spend four-five overs before taking on the bowlers and try to give a good start.
"I know that I have Dhoni,
Virat Kohli
, Yusuf Pathan, Yuvraj Singh and
Suresh Raina
in the middle-order, so I can go after the bowling straight from the first ball. But now I am trying to look for three-four overs and ensure that I give a good start to the team," Sehwag said.
Sehwag has been a prolific run-scorer for India in Tests but his performances in ODIs are not that impressive compared to his deeds in the five-day format.
But Sehwag seemed hardly bothered by the statistics and said what matters for him is his contribution towards the team's success.
"I am happy with my performances in one-day cricket. It is just because everybody is talking about the fact that my Test average is 54 and ODI average is just 35 doesn't undermine my performances," he said.
"Yes I can do better than what I have done but still I am happy. I am focusing on giving consistent performances in ODI cricket but as long as I contribute to the team, I am happy," he insisted.
Sehwag was a member of India's disastrous 2007 World Cup campaign in the West Indies, where they crashed out in the opening stage after losing to Bangladesh.
Asked about the much-anticipated opening match against Bangladesh, he said the Indians are eagerly waiting to avenge their 2007 defeat on February 19 in Dhaka.
"I think we lost just one or two games against Bangladesh, one in the World Cup and may be one in Bangladesh
only. So, our record against Bangladesh is very good. We know that in the last World Cup, we lost to them, so we are waiting
for the match against Bangladesh. We are charged up for the game and hopefully, we will do well against them this time," Sehwag said.
Asked whether he has recovered fully from his shoulder injury that cut short his South Africa tour, he said, "I am taking regular treatment, so hopefully, I will be completely fine."
He also said that despite concerns about his shoulder, he would bowl in the World Cup but not before recovering fully. "Of course, I want to bowl. I want to contribute for Team India."
The experienced Delhi batsman was of the view that with the advent of Twenty20 cricket, the players' thinking has changed to a large extent.
"I think the
IPL
changes a lot of batsmen's mindset because now they think we can chase 10 runs an over. So, it would be very exciting to see teams chasing 10 runs an over in this World Cup. PTI