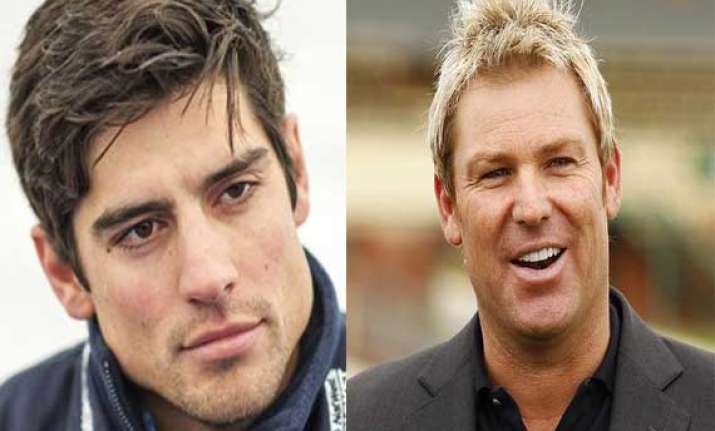 London: England captain Alastair Cook ahead of the decisive second Test against Sri Lanka accused Shane Warne of making personal attacks on him and his captaincy.
Warne criticized Cook's captaincy and questioned his tactics and the timing of his declaration against Sri Lanka at Lord's by saying 'something needs to be done.'
Waren hadr termed his 294 against India at Edgbaston three years ago as 'boring.'
Cook refused to response when asked about Warne and other criticism in his press conference ahead of Friday's second Test but was more forthcoming in a radio interview.
'Something needs to be done because in my eyes I've been criticised for a hell of a lot of my three years as captain,' said Cook when asked for his response to 'voluble' remarks, in particular from Warne.
'Yes, when you lose as captain you get criticised but I've also won a lot for England. I've won more one-day games than any other England captain, I've won an Ashes and away in India. I'm proud of that, so to be criticised for three years I find quite hard to take to be honest.
'Support and positivity is what this England team need. The crowd at Lord's were brilliant, the public there were fantastic and got behind the lads. A bit more support like that would stand everyone in good stead.'
Did Cook believe the criticism was personal? 'Yes I think it is,' he said. But would a century in Leeds silence the noises off? 'It probably wouldn't which is sad but hopefully for the good of this England side it would.'
Warne, a close friend and confidante of Australian captain Michael Clarke and an ally of Kevin Pietersen, has been harsh and relentless in his attacks on Cook but whether the England captain should have responded in this way at this time is questionable.