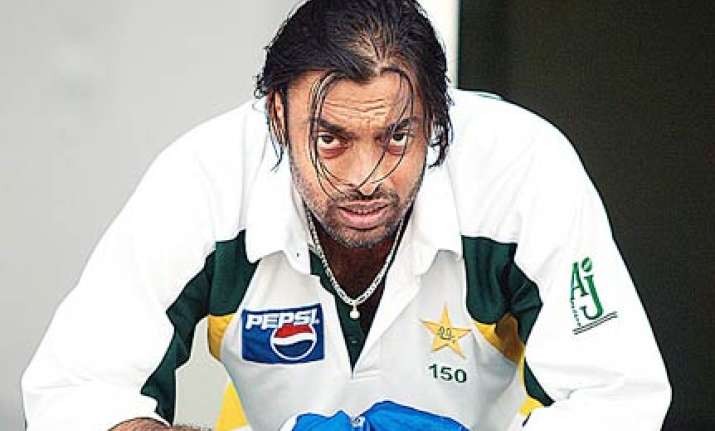 Lahore: Fast bowler Shoaib Akthar has said off-field controversies, including the spot-fixing allegations against three players, which marred Pakistan cricket recently have affected the team's confidence and on-field performance.
"These controversies have shaken the confidence of the team and players and now it is very important to get rid of such problems in order to lift the sagging fortunes of the team, " Shoaib told reporters during National T20 Championship here.
"I think it is sad but at the same time it is important to overcome this factor to infuse new confidence in the team to produce better results in coming assignments. "
Shoaib, who himself is a controversial cricketer and was recently caught on camera tempering ball in an ODI against England, said the only way of regaining confidence is by playing stress-less game with "full potential. "
He said that Pakistan team has "high quality talents" to beat any team in the world, but it need to exploit those talents with confidence.
"I am a firm believer that our team has the guts and talent to beat any team in the world because we have high quality cricket talent in our ranks in batting and bowling and what needed is to utilize such a combination with confidence. "
The speedster, who played in ODI series against England after the controversial Test series marred by allegations of spot-fixing, failed to find a place in Test squad for South Africa series in UAE. Shoaib said he is working hard to get into Test team and still have four years of cricket left in him.
Shoaib, who is now bowling with shorter run-up, said "the way I'm performing and working on maintaining fitness, I can say with confidence that I can not only play next year's World Cup but can be a part of the team for another four years. "
He also talked about trying to make a comeback to the test team for the tour of New Zealand in December. "I still feel I can play some more test cricket for Pakistan and I am targeting the New Zealand tour before the World Cup, " he stated.