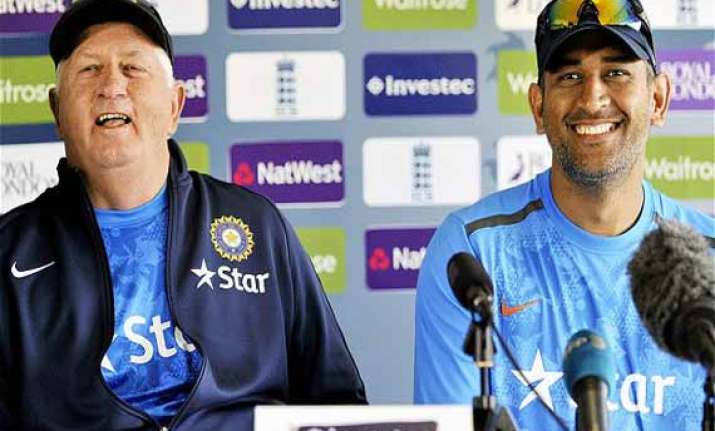 Bristol: Ending speculation about coach Duncan Fletcher's role in the five one-dayers against England, Indian skipper Mahendra Singh Dhoni today said that the Zimbabwean will stay as "boss" of the team until the 2015 World Cup.
After the 1-3 Test debacle, Team India witnessed a major reshuffle on the coaching front with bowling coach Joe Dawes and fielding consultant Trevor Penney forced to go on a break and BCCI appointing Ravi Shastri as the Team Director. But on the eve of the the first ODI, Dhoni said that Fletcher is still "the boss".
"He will lead us into the World Cup," said Dhoni referring to the coach.
"Also he is still the boss. We have Ravi Shastri who will look into everything, but Fletcher is the boss. It's not as if his powers or his position have been curtailed. I don't know what you feel from the outside, but operations still remain the same. We have a few other support staff coming into the dressing room, but overall the operation remains the same."
After taking over his director's role, Shastri did mention that the new coaching staff, including Fletcher, will report to him during the limited-overs series. After Dawes' and Penney's ouster, former India all-rounder Sanjay Bangar and ex-pacer Bharat Arun were appointed assistant coaches with R. Sridhar as the fielding coach. Dhoni though clarified that Shastri's role is more of a manager.
"Ravi is here to oversee the operations from the outside, what he feels and everything else. It's good to have him. He is a very proud (former) Indian cricketer, and at the same time, very positive. He believes a lot in fighting and having the right instincts, going over and giving his hundred percent. It is obviously good to have him. He also speaks the same language and can interact a lot with the players. Same is the case with other support staff so it is good to have them here," said Dhoni.
When asked if he was happy with the timing of the changes, the skipper replied, "It's a bit tough on Trevor (Penney) and Joe (Dawes), especially when fielders drop catches and the fielding coach has to miss the series. But let's hope for the best. We are welcoming the new guys because that is very important. They will be part of the dressing-room family as of now. We will have to give them some time to adjust to how we operate, and see what kind of input they bring to the table."