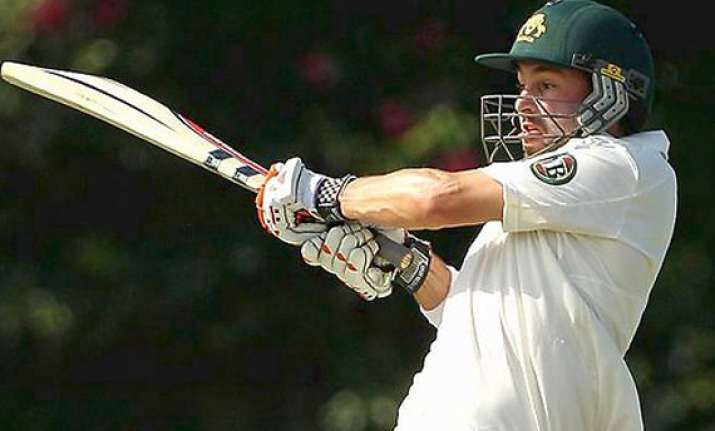 Melbourne, Dec 13: Test hopeful Ed Cowan has been withdrawn from captaining the Cricket Australia Chairman's XI to meet India this week, and instead will play in the opening match of the Big Bash Twenty20 tournament.

The Tasmania batsman, a prime prospect to fill in for out-of-form Phil Hughs or injured openers Shaun Marsh and Shane Watson in the Australia side, will line up for the injury-depleted Sydney Sixers in the domestic tournament Friday.

Cowan will play in the second Chairman's XI game against India in Canberra from Dec. 19-21.

"Our long term planning for the Boxing Day Test had been based around the principle that all fit players would be available for round one T20 Big Bash League games and then their focus will turn towards their individual preparation plans for the first test against India."

CA team performance general manager Pat Howard said on Tuesday.

CA said in a statement that with injuries to the Sydney Sixers squad, and other injuries affecting players named for Chairman's XI games, it had been agreed to release Cowan to play the opening Sixers game and instead have him miss the second Sixers game to play in the second Chairman's Xl.

Australia coach Mickey Arthur said the Big Bash schedule posed a challenge for test selectors.

"The schedule is what the schedule is," Arthur said. "Whether that is great or not, it is the hurdle that is in front of us. We've just got to be able to handle that.

"(But) players are good enough at this level to be able to adapt their games and slip in and out of each format."

Ryan Broad will now captain the team in the first Chairman's XI game starting Thursday, while Cowan will replace Marsh in the second team to be captained by rookie test opener David Warner, who scored an unbeaten century in a man of the match performance during Australia's second test loss to New Zealand on Monday.

"From my point of view it's the best of both worlds, it's no longer one or the other," Cowan said. "It gives me a great opportunity to not only be in an exciting game of cricket on Friday night but also from a personal point of view to play against the Indians."

Paceman Joe Mennie is out of the first Chairman's XI side due to a hip injury and has been replaced by Cameron Boyce.

Players included in the Chairman's XI teams are those the selectors consider to have test potential, young test players and those returning from injury.

Teams:

First Match: Ryan Broad (captain), Cameron Boyce, Joe Burns, Tom Cooper, Alex Doolan, Peter George, Jake Haberfield, Josh Lalor, Tim Ludeman, Glenn Maxwell, Wes Robinson, Dean Solway.

Second Match: David Warner (captain) Doug Bollinger, Cameron Boyce, Ed Cowan, Tom Cooper, Trent Copeland, Alex Doolan, Peter George, Phil Hughes, Usman Khawaja, Josh Lalor, Tim Ludeman.