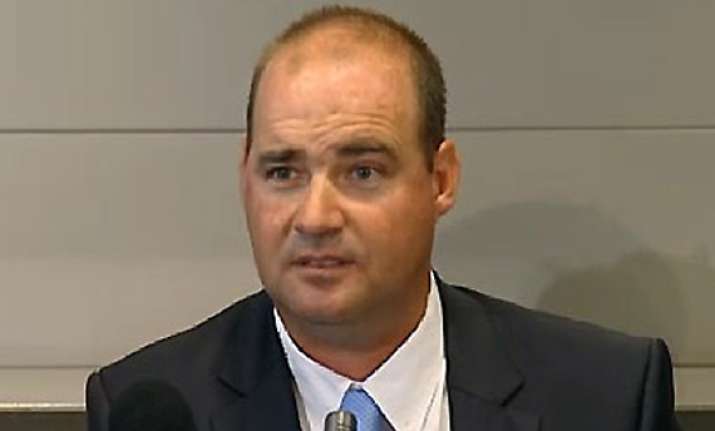 Brisbane, Feb 18: Livid after consecutive losses inthe ODI tri-series, Australia coach Mickey Arthur today said the side and its "jaded" stand-in skipper Ricky Ponting would have to face the consequences if they don't atone for the defeats with an improved performance against India here tomorrow.

"If I have to be totally honest, Ricky is a little bit jaded...and last night was a bit of unacceptable," remarked Arthur as he took stock of two successive defeats against India and Sri Lanka in the one-day series here.

Australia were unable to defend a total of 269 against India at Adelaide and last night lost by eight wickets to Sri Lanka, conceding a bonus point, in Sydney.

"The guys are hurting and this is an opportunity for them to atone for what happened last night...if they don't atone for it, they know what the consequences are," said Arthur.

Ponting was given the respect he deserves for his dazzling career but Arthur minced no words on how performance alone can guarantee a cricketer his place in the side.

"Ricky is a little bit jaded, like a couple of our Test players that have played all summer but that's the treadmill of international cricket and they have to find a way to make their performances count and have an impact on the team. I'd like to see Ponting in our team all the time but as I've said through the summer, every cricketer's currency is performance, that's what gets you into the Australian team.

"A character like Ponting is someone you want around the team all the time because he's so inspirational, he's still our fittest player and hardest trainer. He trains with the most intensity, he's a fantastic example to every guy who comes into the team," he said.

"Ricky is a class act, there is no way you can write off a champion like him. He faced those same issues around the first couple of Test matches and he came through the Test series, had a great series against India and I hope he turns it around tomorrow," he added.