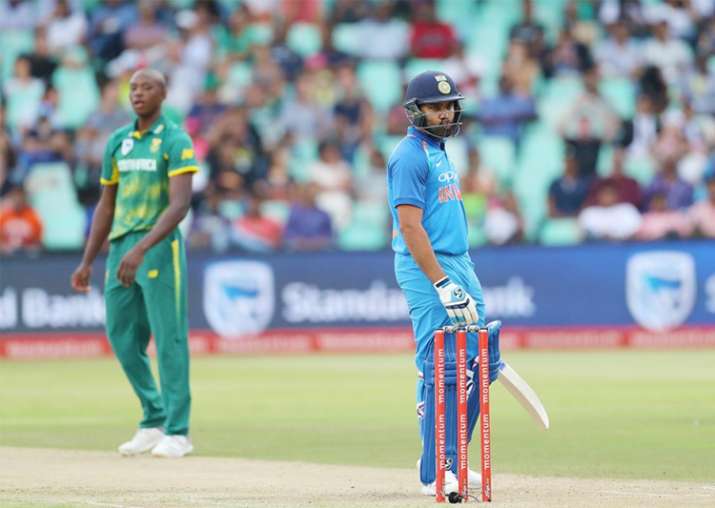 Rohit Sharma's dry run in the ongoing one-day international series against South Africa has left many baffled as the India opener is considered one of the most aggressive batsmen of modern-era in limited-overs format. Rohit has been in imperious form, scoring 1293 runs in 21 ODIs he played in 2017. He also made history by becoming the only player to his three double hundreds in ODIs.
However, with the start of New Year, Rohit' form has dwindled as he continues to struggle in challenging South African conditions. 
In the two Tests he played against the Proteas, Rohit managed to score just 78 runs. His poor form has refused to leave his side in the ODI series as well. Rohit has just been able to score 40 runs in four matches that have been played so far - a far cry from where he left in 2017.
Throwing light to Rohit's ongoing poor run, former South Africa captain Kepler Wessels has said that the Mumbai batsman will always find it hard to score in the Raibow Nation because of his footwork.
"He will always struggle to score runs in SA because of his footwork. He plants his front foot across to the off-side and in SA, the pitches always seam and bounce a bit. This is the reason that he averages around 10 there. 
"He'll always struggle there because of his technique. It doesn't affect him in India and even in Australia, because the ball doesn't seam there, it just bounces, but when you have seam and bounce, with that technique, he's got a problem," Wessels told The Times of India.
Meanwhile, the other Indian opener Shikhar Dhawan has managed to come into his own in the ODI series, shedding his poor form in Test cricket.
Dhawan has scored 271 runs in the series, including a hundred and two fifties. He is only behind captain Virat Kohli in the list of highest run-getters in the ODI series.
Wessels said Dhawan in "impressive" as an overall package.
"He looks very impressive in one-day cricket. He's superb there. In the Tests, he's still vulnerable to the short ball, but the overall package is very good," Wessels was quoted as saying by the newspaper.