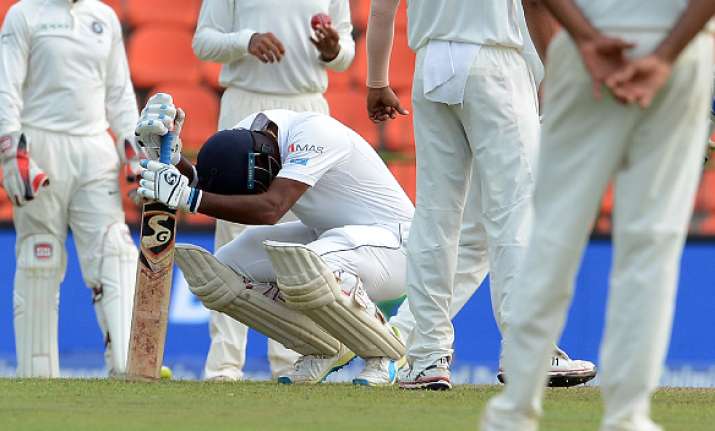 Sri Lanka batting coach Hashan Tillakaratne today chided his batsmen for their cross-batted shots against the Indian spinner as the host's stare at a massive defeat in the third Test. 
The coach expressed his displeasure with how his team folded up in the first innings for a paltry 135 in reply to India's huge 487. 
"Playing spin, even from Zimbabwe series we couldn't cope up with. Second innings of that match and second innings of the SSC Test, the boys played really well. But there was no continuity," Tillakaratne said at the press conference. 
"When you play Test cricket these shots are highly uncalled for. They looked very immature and played some bad shots. We did practice these shots especially to counter Ashwin and Jadeja but cross-batted shots were highly uncalled for. It was not on," he added. 
However, Tillakaratne said the team needs support in this self-created crisis 
"It's a disappointing day. We batted so poorly today. I am sure the boys have realised where we went wrong sure. They will come out with a better plan tomorrow. There are so many things that you can say when the team is not doing too well. This is the time we must back these guys and give them confidence," said Tillakaratne. 
"We thought after the second innings of the second Test that we had laid a very good platform but we couldn't build on after that. We need to be patient with them. They are playing against the no.1 side in the world. 
"I am not seeking any excuses but these boys are well experienced but they do a lot of mistakes while batting. They are a little down in confidence and I am sure they will put up a good fight tomorrow," he added. 
India are headed for a 3-0 clean sweep having won the Galle and Colombo matches and the coach acknowledged that only a miracle can save the side. 
"We won 3-0 against Australia with the same side but we are a little down in confidence. We need one or two guys to put up their hands and do a miracle. I am sure the boys are very much confident and they want to do the needful," the coach said.