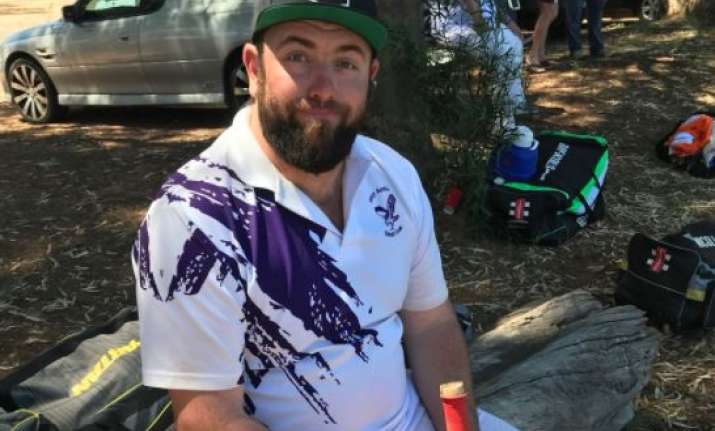 West Augusta batsman Josh Dunstan smashed made a mockery of several cricket records when he achieved the unthinkable in the B-Grade Port Augusta Cricket Association game. Dunstan produced a freakish display of belligerent hitting against Central-Stirling at Braddock Park on Saturday. He scored a massive 307 in a 35-overs-a-side match which includes 40 mighty hits that went straight out of the park.
Congrats Josh Dunstan, 307 in 34 overs of mayhem including 40 sixes. #magicwandcricket #willowblue pic.twitter.com/3cpHdP3F54

— John Dunemann (@jdunny71) October 14, 2017
Out of his team's total of 354, Dunstan made the contribution of a whopping 86.7 percent which speaks in itself about the impact his innings made in the match. 
The West Augusta Cricket Club shared the achievement of the batsman on social media platform Facebook, posting Dunstan's picture and captioned it, "Every now and then we get to witness something special. Josh Dunstan smacked 307 runs off 30 overs today including 40 sixes. Another club record smashed! Very well done Dunny! WACC forever."
Dunstan's historical effort has put him ahead of former West Indian skipper Viv Richards holds the record for the highest percentage of runs in a completed innings. Richards achieved the feat when he hit an unbeaten 189 against England at Old Trafford in 1984. West Indies' team total stood at 272/9. This meant that he had scored 69.48 percent of his team's total.
Interestingly, Dunstan brought up his century, double-century and triple-century with maximums. Also, five of Dunstan's teammates were back to the pavilion without getting off the mark. The second best score after Dunstan's 307 was 18 not out.
It would not be unfair if we call it 34 overs of pure mayhem.