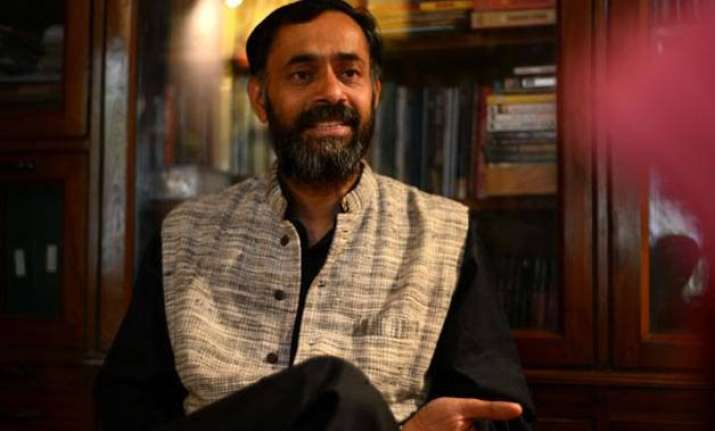 New Delhi: After the landslide victory in Delhi, AAP's national executive met on Thursday. Sources as quoted by the Indian Express, said that there was a heated exchange between a section of the national executive and senior leader Yogendra Yadav.
The conversation got heated up with Yadav's role in the run-up to the Delhi elections coming under crticism.'
As published in The Indian Express a senior party functionary said, "Questions were raised on what some members felt was unfair criticism of candidate selection and later comments to the media on contesting elections in other states."
As reported by The Indian Express the second meeting on Friday did not include Yadav. It was at this meeting that a move to give Kejriwal the powers to reconstitute the PAC was initiated. When contacted, Yadav said, "I do not comment on internal party matters in the media."
However, others in the party said questions on inner-party democracy and conduct of candidates during the Delhi elections were also raised at the national executive meeting.
Sources said matters came to a head on Thursday morning when Kejriwal did not show up for the national executive meeting and offered his resignation instead from the post of national convener.
This led to a furore and the executive rejected the resignation. "Later, a section of the national executive went to call on Kejriwal, and conveyed to him their rejection of his resignation. On Friday, members met and decided to give Kejriwal the powers to reconstitute the PAC," a source said.
National executive member Ilyas Azmi confirmed that Kejriwal had tendered his resignation as national convener on Thursday morning. "Saying that he wanted to concentrate on Delhi, Kejriwal had given his resignation from the post of national convener. However, the resignation was unanimously rejected. We are looking at reconstituting the PAC," he said.
Leaders also said that there has been lack of trust between Yadav and a section of the senior leadership ever since he wrote a letter questioning Kejriwal's methods and the democracy within the party.