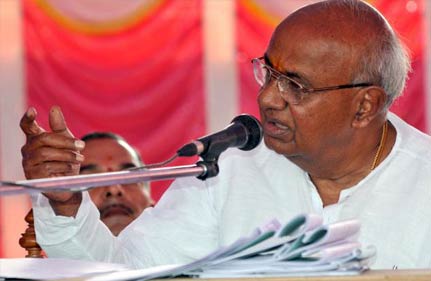 New Delhi, Nov 19: Demanding inclusion of Bangalore- Mysore corridor project in the ambit of the judicial inquiry into denotification of land ordered by Karnataka government, former Prime Minister H D Deve Gowda today said the chief minister should step down to ensure a "fair probe".
"I welcome the decision of the Yeddyurappa government to enlarge the scope of the probe from 10 years to 16 years...it will now cover the period when I was the Chief Minister...my demand is that the probe should also include the Bangalore- Mysore Infrastructure Corridor Project scam," he told reporters here.
He claimed the corridor project scam was "second only to the 2G spectrum scam" in terms of the loss to the exchequer.
The judicial inquiry ordered by Yeddyurappa would now include denotification of land by Karnataka Industrial Area Development Board and Bangalore Development Authority from 1994 till date.
Asked if he expected a neutral probe, Gowda said the chief minister should step in the interest of a fair probe.
The Chief Minister's staff has removed all files pertaining to the involvement of his family members in the alleged land scam from offices of Bangalore Development Authority and Bangalore City Corporation, alleged the JD-S chief. PTI