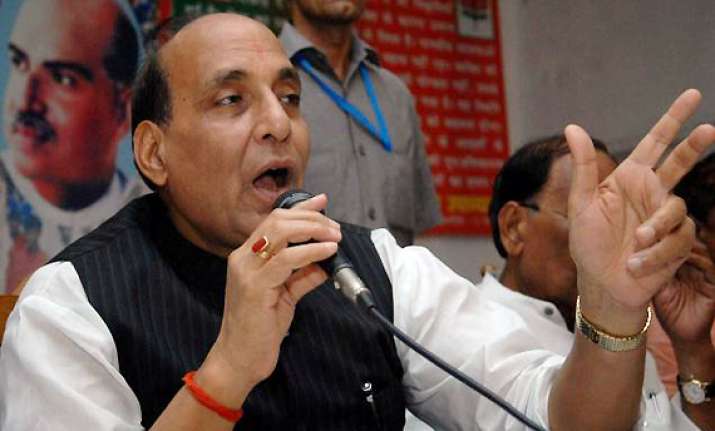 Ambedkar Nagar/Azamgarh (UP), Feb 6: If Congress leader Rahul Gandhi knew that BSP's "elephant was eating money" what steps did he take to check the practice, BJP leader Rajnath Singh today asked.

"I want to know from Rahul, when he came to know that the elephant (BSP symbol) was eating money ... And what he (Rahul) did to check the practice," asked Singh while addressing an election meet in Ambedkar Nagar.

On January 19, Rahul had said in a UP rally that funds sent by the Centre for development of the state were "eaten up" by the magic elephant in Lucknow.

"Whatever money is being sent from the Centre, the magic elephant in Lucknow eats it up. It never reaches the beneficiaries," he told a rally in Hamirpur Assembly constituency.

Taking pot-shots on both BSP and Congress, Singh said that it was difficult to tell which party is most corrupt and both the state and Central governments were mired in corruption cases.

Singh said that on one hand Rahul was claiming to change the face of the state in five years, on the other he was mum on the issue of rising prices, which had adversely affected common man.

"It's irony that Rahul is mum on important issue of rising prices, he said, adding that SP and BSP were also not concerned with the issue as they were supporting Congress at the Centre," Singh said.

The former UP chief minister said that BSP, which catapulted itself to power on issues of crime and corruption did nothing to tackle them in its regime.

He alleged that law and order had gone from bad to worse in BSP regime.