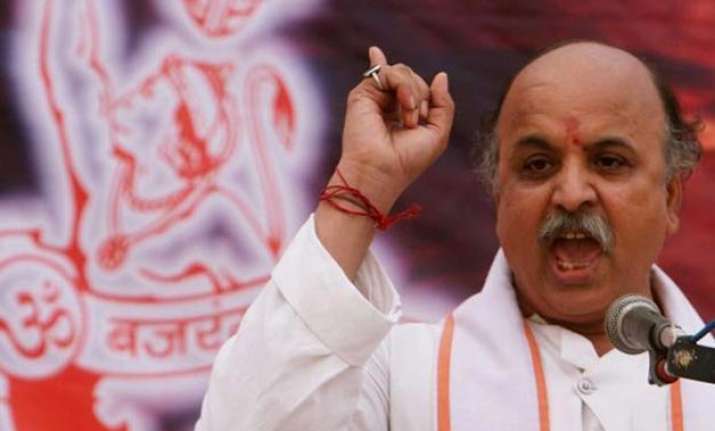 New Delhi:  On a day the Modi government completed its first year in office, VHP today piled pressure on it to construct Ram temple at the disputed site in Ayodhya by "clearing hurdles" in the path of its construction.
A delegation of saints would be formed to take up the matter with the government so the impediments are removed, a resolution passed on the first day of the two-day meeting of VHP's 'Kendriya Margdarshak Mandal' at Haridwar said.
A VHP spokesperson said its international working president Pravin Togadia and president Raghava Reddy are present in the meeting which has given a push to the Hindutva agenda by reiterating its exclusive claim over two other holy sites in Mathura and Varanasi.
"The Kendriya Margdarshak Mandal has resolved that a delegation of saints would establish contact with the Union government and hold talks with it to clear hurdles in the way of Ram temple construction," a VHP statement said.
BJP, whose political fortunes had soared on the back of the Ram temple movement in the late 1980s and early 90s, has chosen to put the vexed issue on the back burner when in power, favouring a solution through a court verdict or talks between the rival parties locked in the legal tussle.
Rejecting any formula involving construction of a temple as well as a mosque at the dispute site, VHP said no place of worship for Muslims would be allowed to come up in the huge premises having hundreds of Hindu pilgrimage centres.
Invoking independent India's first Home Minister Sardar Patel, who Prime Minister Narendra Modi considers his hero, VHP said he had rebuilt Somnath Temple and it was time to= carry on with that tradition.
It said it was a "matter of pain" that grand temples of Ram, Krishna and Shiva had not been built at Ayodhya, Mathura and Varanasi respectively even 68 years after independence.
"Islamic invaders destroyed over 3000 of our temples and other holy places. We have also sought three of them... Our decency should not be seen as a weakness," it said.