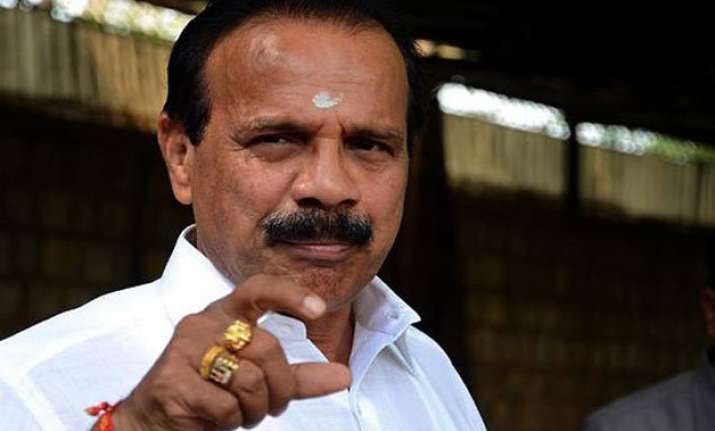 New Delhi: Union Law Minister Sadananda Gowda along with a delegation of BJP MPs today met Home Minister Rajnath Singh and demanded a CBI probe into the death of IAS officer D K Ravi Kumar in Bengaluru which triggered widespread outrage.
After meeting Singh, Gowda, a former chief minister of Karnataka, accused the Congress government in Karnataka of trying to "hush up" the case by making it look like a "suicide".
Calling Kumar one of the "toughest" officers he has ever seen, Gowda claimed people of Karnataka felt that neither the chief minister nor the officers can ensure a free and fair investigation into Kumar's death.
"It (Kumar's death) has created great suspicion in the minds of the people with regard to D K Ravi's assassination case," the Union Minister said.
The 35-year-old IAS officer, who had taken on the sand mafia during his tenure as a district collector in Kolar, was found dead in his official residence on Monday.
Last year, he was deputed to the Commercial Tax department and was investigating real estate majors and big jewellers for alleged tax evasion. His death has triggered angry protesters in various parts of Karnataka.
"The Home Minister said that he will a get report as early as possible and will see what next step needs to be taken," Gowda said.
He said a "clean investigation" will give moral boost to good officers. "Any officer cannot work if this sort of things happens in any part of the country."
"The (state) government itself wants to hush up the case and for that reason they were telling it looks like an attempt to suicide. People of the state are not satisfied even if the investigation is held by the state government. To avoid all this confusion, it is fair for it to refer the matter to CBI," he said.
"The state government is not taking any initiative. Apart from that, right from the beginning they started telling it looks to be a suicide case, without investigating it or getting a report from the concerned investigating agency," he alleged.