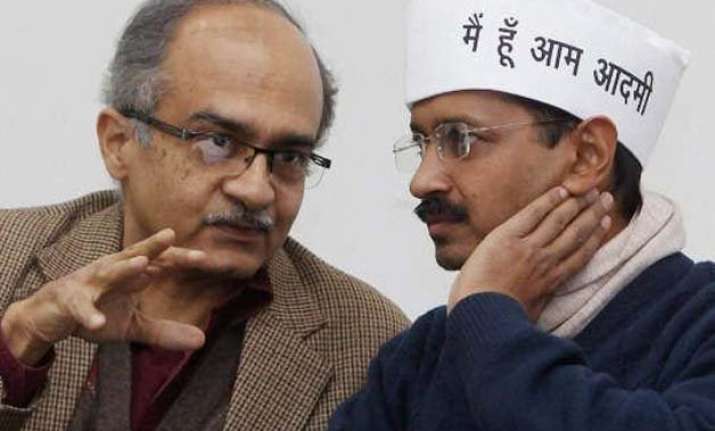 New Delhi: Signs of reconciliation within the Aam Aadmi Party (AAP) is in air especially after party chief Arvind Kejriwal agreeing to meet two rebellions Yogendra Yadav and Prashant Bhushan.
Reports today suggested that Kejriwal was cornered by the fact that Yadav and Bhushan had in past written a letter to the party high command offering to quit the national executive and other posts subject to the acceptance of their terms.
DNA reported that the duo in the letter had offered to quit demanding bringing back Swaraj in the party; regularise decision-making bodies such as the PAC; bring the party under RTI ambit; make minutes of meetings available online; set up a communication network between volunteers and authority figures; give autonomy to state units; fill in the 7-8 posts lying vacant in the national executive.
The latest revelation came after Kejriwal's yesterday reply to Yadav and Bhushan: "Will meet soon."
In another sign of reconciliation between the two camps, AAP bigwigs Sanjay Singh, Ashutosh, Kumar Vishwas and Ashish Khetan met Yadav late on Monday night at latter's residence.
Both camps had termed the discussions as 'positive'.
"We were bothered with what was happening in the party for the past few days. We started talks with Yogendra (Yadav) bhai. The start was good," Sanjay Singh tweeted.
Yesterday, however, reports were doing rounds that Kejriwal is firm on throwing out the two leaders from the party and later quitting as national convenor.
A final decision in this regard will be taken during the 350-member National Council meet on March 28.
Meanwhile, Hindustan Times reported that there will more meetings before March 28 to bridge the differences between Kejriwal and two leaders.
Rift within the AAP came out in the open soon after its victory in the Delhi Assembly polls. The infighting was reported in media after few letters exchanged between the top leaders were leaked. Yadav and Bhushan were axed from PAC earlier this month. However, they are still members of the party's national executive.