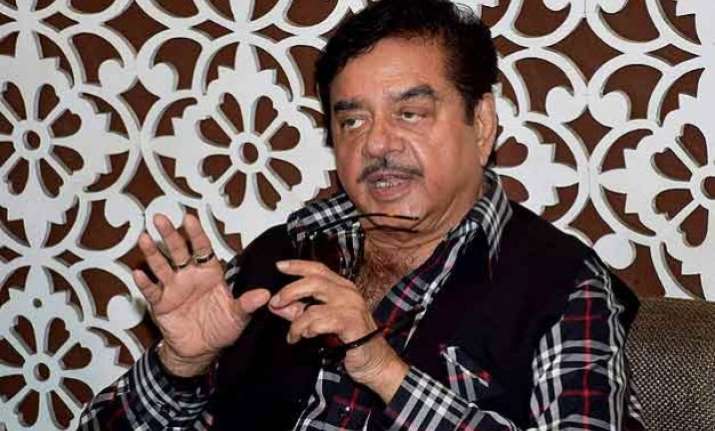 Patna:  A day after his meeting with Bihar Chief Minister Nitish Kumar set off speculations, actor-turned BJP MP Shatrughan Sinha today swore allegiance to his party but maintained nobody knows what future has in store for him.  
"I met Nitish Kumar late last night at his residence as I have personal and family relationship with him. We have been meeting very often in the past too so why so much of hullaballo on this meeting?" Sinha told reporters.  He had met Kumar hours after Prime Minister Narendra Modi's visit to the state, triggering speculations about the Patna Sahib MP's future in BJP.
"Nitish Kumar is like my elder brother and we have a deal that whenever I am in Patna we will meet at least once," Sinha, who is believed to be unhappy over his non-inclusion in the Modi government, said, adding people were trying to make a "mountain out of mole hill".
Defending his praise for Kumar, he said "After all he is a talented and qualified Chief Minister of Bihar and I am Bihari Babu."
Recalling his long association with BJP, Sinha said,"I am in BJP and this is my first and last party.
I joined BJP when it was a party of two MPs. Sukh-dukh ke bhagidar rahe hain (I have been with the party in good and bad times)." He insisted there was "no question" of joining the JD(U).  He, however, added "kal kisne dekha hai (who has seen tomorrow). I do not know whether tomorrow I would be thrown out of the party or embraced by it...I have not thought about it."
Asked why the party was ignoring him, Sinha said "It's not true. The party is not ignoring me. But a few people scared of my popularity are working against me."
Sinha, considered close to BJP patriarch L K Advani, who too has been kept out of the decision making process in BJP, served as a minister in the NDA government led by Atal Bihari Vajpayee.
"I did not cross the 'Lakshman Rekha' by meeting the CM," he said, asking the media not to "dramatise" the meeting.
"I have earlier met Sonia Gandhi, Rahul Gandhi, Mulayam Singh Yadav and Lalu Prasad. Our party lines can be different, but we are human beings and I value 'samskar' (courtsey)," he said.
He described Prime Minister Modi as a "dashing, dynamic action hero".Asked to comment on sharp exchanges between Kumar and Modi during the latter's visit to the poll-bound state yesterday, Sinha said," It would have been better if trading of charges could have been avoided as everybody was waiting to hear about PM's vision for development of Bihar."
Sinha, who was present at Modi's first engagement at Veterinary College ground where he inugurated several schemes, said he did not attend his rally at Muzaffarpur as he was not invited.
He had also skipped BJP president Amit Shah's function in April last despite being the local MP, saying he had not received an invitation.